Zero Carb with Zerotein Strawberry Kiwi (4.4lb) - VPX Sports - Advance to the Next Level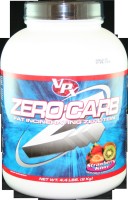 ---
Ingredients & Description
"VPX, "The Front Runner in Sports Nutrition", was first to bring you 100% Whey Protein Isolate. In fact, VPX was the Whey Protein Isolate for the last two years! VPX's proprietary Cross-Flow Quadrafiltration technology allows us to manipulate and selectively choose specific microfractions such as, IGF-1 and IGI-II that have specific functional properties such as, stimulation of lean muscle growth. One of many other advantages of our new technology is the ability to introduce Quardrapeptide Isolates. These particular peptides stimulate the release of opiate like chemicals in the body significantly improving one's pain threshold during intense training. Cross-Flow Quadrafiltration technology along with di, tri, and quadrapeptide isolates are creatine biochemistry that has truly earned VPX the title of "The Front Runner in Sports Nutrition". Insist on 100% Cross-Flow Quadrafiltration Whey Protein Isolate enhanced with Whey Peptide Isolates."
Suggested Use:
For a great tasting, delicious shake combine each schoop with 4-6 ounces of cold water (depending on preference for desired thickness). Use 2-3 servings daily. Always drink 12-16 ounces of additional water for each protein shake consumed.
Supplement Facts:
Serving Size 1 scoop (24.5g) Calories 84 Total Fat 0g 0% Saturated Fat 0g 0% Cholesterol 0mg 0% Sodium 36mg 2% Potassium 95mg 3% Total Carbohydrate 0g 0% Dietary Fiber 0g 0% Sugars 0g 0% Protein 20g 40% Vitamin A 3% Vitamin B1 25% Vitamin B2 25% Vitamin B6 25% Vitamin B12 25% Calcium 20% Vitamin D 4% Iron 4% Vitamin C 60mg 100% Percent Daily Values are based on a 2000 calorie diet
Other Ingredients:
Cold-filtered CROSS-FLOW QUADRAFILTRATION whey protein isolate proprietary microfraction profile comprised of complete spectrum molecular weights for sustained protein absorption and increased nitrogen retention. Natural and aritficial flavors, natural vegetable color, guar gum, carrageenanan, xantahn gum, malic acid, sucralose, pyridoxine HCL, thiamine, riboflavin and cyanocobalamin.
You have reached Zero Carb with Zerotein Strawberry Kiwi on Seacoast.com from the manufacturer VPX Sports. We're proud to have served 941 customers since 02/15/2010 who were also interested in purchasing Zero Carb with Zerotein Strawberry Kiwi. It currently ranks as our 0 most popular natural health product.
Technical Zero Carb with Zerotein Strawberry Kiwi Details: Locate this product using sku number or ISBN . For shipping, the weight is equal to 4.40 pounds and is currently out of stock. Typical inquiries include VPX Sports, and natural health. Seacoast Vitamins offers this product at a $23.95 discount off of the suggested retail price $97.5000. Our price is $73.55.
SKU: VPXSPROT04LBSTRAPW
UPC: 610764010186
Distributed or manufactured from VPX Sports. See more
VPX Sports
products.