ZeoForce Daily Detox 1500 gr - Most Cost-Effective Zeolite Offered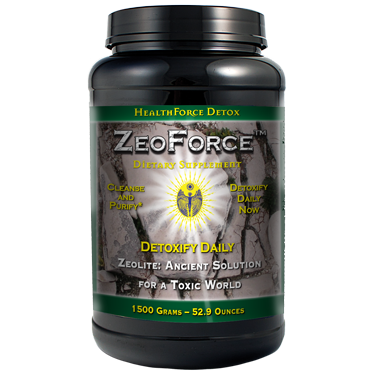 Choose different size or options :
---
Ingredients & Description
ZeoForce (Zeolite) is a safe non-toxic dietary supplement earth clay that can be used, both internally and externally, to help support removing toxins such as harmful environmental chemicals, heavy metals, ammonia, and other poisons. The pure clinoptilolite mineral CONCENTRATE is micro reduced for optimum absorption and potency. ZeoForceÃÂ naturally holds a negative charge and will bond with toxins for safe and effective removal of toxins that diluted liquids simply cannot match. Benefits increase with routine and continued use. Zeolite: An Ancient Solution for a Toxic World!
Benefits:
Internal Detoxification
Face and Body Masks
Detox Body and Foot Baths
Removing Heavy Metals, Radiation and Environmental Pollution
Useful as a Tooth Powder and Many Other Uses
Suggested Uses - Internal
Detoxification: Mix 1 teaspoon to 2 tablespoons per day into water, fresh juice, or smoothie. Neutral taste. Will not pull out good nutrients. Best taken away from food.
Intensive Use: Take 6 tablespoons per day. Ideally, divide servings. Okay and effective to take all at once. Remember to drink plenty of water!
Suggested Uses - External
Cleansing Face/Body Mask: Mix 4 tablespoons ZeoForce into 4 teaspoons water. You can also add a drop of your favorite essential oil for additional benefits. Do Not overdue the essential oil and test on a smaller area first to ensure that it does not irritate your skin or eyes. Avoid the area around your eyes when applying. Spread a thin layer on your face and allow to dry (about 15 minutes). Rinse thoroughly, using the ZeoForce to exfoliate. Follow with a moisturizer if desired. You can also expand this recipe for full body coverage (spread as thick as you wish).
Detox / Relax - Body / Foot Bath: Add 1/4 -1 cup (or any quantity you desire) to hot bath water for a deeply detoxifying soak. Combine internal, mask and bath for ultimate detox!
Bites And Stings: Mix 4 tablespoons ZeoForce into 4 teaspoons water and apply to affected area, allow to dry (about 15 minutes), and rinse. Repeat as required. Also take internally.
Tooth Powder: Add a pinch to your brush and add a drop of essential oil (e.g. neem, peppermint, cinnamon) to create a natural tooth powder blend.
Laundry Powder: Add 1 tablespoon to each load to remove residue and brighten colors.
Suggested Adjuncts: An organic, whole food, Vegan diet with emphasis on high-water-content raw foods; HealthForce foundational nutritional products (Vitamineral Green and Vitamineral Earth), HealthForce Cleanse, regular exercise (both aerobic and strength exercises), fresh air and a positive attitude!
Supplement Facts
ZeoForce Zeolite Powder
Serving Size = 1 heaping tablespoon
APS
%DV
Clinoptilolite
15,000 mg
** Daily Value not established
ZeoForce Zeolite Powder Technical Specifications:
All ingredients are optimally dried for maximum life force.
Packed in glass with the Healthforce exclusive EcoFresh Nutrient LockÃÂ. The dark glass with unique metal lid and oxygen absorber protects 100% of nutrients (creates a vacuum). Glass is recycled/recyclable, does not outgass (see Note below) and is non-toxic to melt down. Plastic bottles and metal/foil pouches (worst and not recyclable) dramatically degrade nutrient levels. Plastic outgasses and is highly toxic to melt down.
Note: All plastic containers (more so in soft plastic) release gases during the aging and degradation of a material. The volatile organic compounds (VOCs) released from plastic negatively affect our health.
Mineral component: Clinoptilolite
Overall surface area greater than 250 sq. ft. / gram
Particle size between 4 - 8 microns (equivalent to 2,400 mesh)
SKU: ZEO1500
UPC: 6 5078600092 5
Distributed or manufactured from HealthForce Nutritionals. See more
HealthForce Nutritionals
products.
---
*Not intended to diagnose or treat diseases or ailments, and is not reviewed by the FDA.
Uses & Indications.
Remove Heavy Metals And Harmful Toxins
Detoxify And Cleanse
Ailments & Concerns.
Exposure To Radiation
Exposure To Environmental Pollution