Youth Chi for Bone Health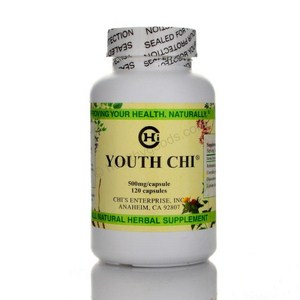 ---
Ingredients & Description
Youth Chi is a non-calcium natural supplement that improves bone formation without using the estrogen route. It contains Sesamum indicum, Zizphus jujube, Cistanche salsa. Rehmannia glutinosa, Cordyceps sinensis, Astragalus membranaceus, Polygonum multiflorum, Lycium chinensis and Chaenomeles sinensis. Youth Chi increases bone mass density, enhances bone calcium content, and prevents calcium loss from bones.
Youth Chi improves bone formation and inhibits bone loss without affecting estrogen levels.
It can be taken by osteoporosis patients who have or are at risk for estrogen-related conditions such as cysts, fibroids, fibrocystic breasts and endometriosis.
Supplement Facts
Youth Chi
Serving Size: 2 capsules
APS
%DV
Rehmannia glutinosa
200 mg
Astragalus membranaceus
100 mg
Codonopsis pilosula Nanuf.
100 mg
Cuscuta chinensis Lam.
100 mg
Dioscorea opposite Thunb.
100 mg
Dipsacus asperoides
100 mg
Eucommia ulmoides Oliv.
100 mg
Lycium chinensis Mill.
100 mg
Psoralea coryfolia L.
100 mg
* = Daily Value Based on a standard 2,000 calorie daily intake
** = Daily Value Not Established
Ingredients:
Rehmannia glutinosa, Astragalus membranaceus, Codonopsis pilosula Nanuf, Cuscuta chinensis Lam, Dioscorea opposite Thunb, Dipsacus asperoides, Eucommia ulmoides Oliv, Lycium chinensis Mill, Psoralea coryfolia L
Suggested Use:
2 capsules, 2-3 times a day after meals.
SKU: CHI-9125
UPC: 704889389125
Distributed or manufactured from Chi's Enterprise. See more
Chi's Enterprise
products.