Wormwood Intestinal Detox -Planetary Formulas- Clears and detoxifies GI tract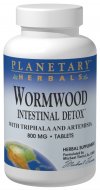 ---
Ingredients & Description
Clears and detoxifies GI tractPromotes a healthy immune systemAids the development of natural, healthy gastrointestinal floraAs our food supply becomes more globalized and with increased consumption of raw and undercooked foods, strong intestinal detoxifiers are needed to maintain intestinal balance.Planetary Herbals Wormwood Intestinal Detox is a unique combination of strong herbal purifiers that support the bodys natural cleansing process. Traditionally, these herbs have been used to assist the bodys efficient elimination of toxins and foreign matter, to expel waste matter from the intestines, and to promote a healthy GI tract. This balanced formula combines detoxifying and expelling herbs, such as wormwood and black walnut hulls, with the classic internal cleanser and tonic Triphala, for a combined detoxification and toning of the digestive system.Wormwood - A Traditional BitterWormwood Intestinal Detox features wormwood (Artemisia annua), historically known as one of the most effective bitters in restoring intestinal health. Herbal bitters help stimulate the release of bile from the liver and further enhance the body's natural cleansing process by assisting in GI motility (the spontaneous motion of the gastrointestinal tract). Another key botanical, wormseed (Chenopodium ambrosioides), promotes the flow and discharge of bile into the small intestine and assists the body's ability to flush the intestines. Black walnut hulls and butternut bark are two additional bitters important to this formula. Black walnut hulls, which contain juglans and tannins, have traditionally been used to support digestion and, specifically, a healthy colon. Also called white walnut, butternut bark is used to cleanse the body and intestines and ensure proper elimination. Also added is the tonic quassia, which aids digestion by stimulating the secretion of bile and gastric juices.Comprehensive Cleansing with the Addition of TriphalaTriphala is a traditional East Indian botanical combination renowned for its purifying, nourishing, and toning actions. The three fruits of Triphala, amla, behada, and harada, are powerful astringents and promote the health of intestinal tissue. At the same time, they work in combination to support an intestinal environment favorable to proper flora growth. Triphala promotes efficient elimination. The addition of this classic internal cleanser fortifies Wormwood Intestinal Detox, to both detoxify and tonify the digestive system.Traditionally Soothing Herbs for GI Tract and Immune SupportThe surfaces of the GI tract, or mucosa, contain a complex system of immune cells, which play a role in cellular immunity and other immune system activity. The health of these cell surfaces is key in ongoing intestinal health. Many of the herbs in Wormwood Intestinal Detox are known to soothe or lubricate the gastrointestinal tract, thereby enhancing GI function.The principal soothing herb in the formula, marshmallow root, contains mucilaginous polysaccharides that lubricate and protect mucous membranes. As a digestive aid and bitter, fennel seed promotes normal acidity in the stomach and intestines while helping to support GI motility. Naringenin, present in citricidan, or grapefruitseed extract, encourages gastro-protective effects by increasing mucus secretion. Furthermore, ginger roots active ingredients, gingerol and shogaol, enhance the secretion of digestive juice and tone the muscles of the digestive tract.Combining Tradition and Modern ScienceWormwood Intestinal Detox exemplifies Planetary Herbals' commitment to herbalism at its best-combining the wisdom of traditional herbalism with the advances of modern science.
Suggested use: 1 to 2 tablets twice daily between meals. To maintain electrolyte balance, drink plenty of fluids including fruit or vegetable juices while using this product.
Supplement Facts for 800 mg TabletServing Size: 2 Tablets Amount%DVCalories5 Total Carbohydrate1 g<1%Vitamin C (naturally occurring)2 mg3%Proprietary Blend: Sweet Wormwood Aerial Parts Extract (8:1), Black Walnut Hull Extract (4:1), Butternut Bark Extract (4:1), Chebulic Myrobalan Fruit, Grapefruit Seed Extract (Citricidex) (49% polyphenolic compounds), Belleric Myrobalan Fruit, Fennel Seed, Quassia Wood Extract (4:1), Amla Fruit Extract (40% tannins), Marshmallow Root Extract (4:1), Epazote Whole Plant Extract (15:1), and Ginger Rhizome Extract (4:1).1.6 g
Other Ingredients: silicified microcrystalline cellulose, stearic acid, colloidal silicon dioxide, modified cellulose gum. Warning: Do not use if you are pregnant, may become pregnant, or breastfeeding. If you have heart disease, gastric or duodenal ulcers, liver disease or another medical condition, or if you are taking any prescription medication such as Digoxin, Ciprofloxacin, or Warfarin consult your health care professional before using this product. Do not use with alcohol. Discontinue use and consult a health care professional if persistent diarrhea or gastrointestinal upset symptoms appear.STORE IN A COOL, DRY PLACE.Do not use if either tamper-evident seal is broken or missing. Keep out of the reach of children.Suggested Use: 1 to 2 tablets twice daily between meals. To maintain electrolyte balance, drink plenty of fluids including fruit or vegetable juices while using this product.
Planetary Herbals offers the best of classic herbal traditions, from Ayurvedic and traditional Chinese herbalism to the experience of Western herbal practitioners. Utilizing the knowledge of more than 30 years clinical experience, professional herbalists such as Michael Tierra, Lesley Tierra, Jill Stansbury, and Alan Tillotson, Planetary Herbals is committed to ensuring that our time-tested herbal traditions continue to evolve, grow, and flourish.
SKU: PF0579
UPC: 021078105794
Distributed or manufactured from Planetary Herbals. See more
Planetary Herbals
products.