West African Red Palm Oil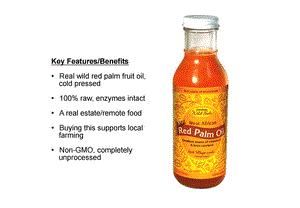 ---
Ingredients & Description
West African crude this oil is pressed from red palm berries handpicked wild in the bush. This is preserved raw, so all nutrients, including the vitamin E and beta carotene, are intact. The richest natural source of the invaluable tocotrienols. This is ideal cooking and food oil. This is the ideal cooking and food oil. Not heat sensitive; ideal for frying potatoes, sweet potatoes, eggs, poultry, and rice. Absorbs the heat and transfers this to the food. Make a super-nutritious meal by making fried rice using Americanwildfods wild rice. Now with Wild West African Red Palm Oil you can cook with stainless steel, that healthier option versus Teflon, without sticking.
the true, original village made African red palm oil
True hand-harvested wild-source oil
World's top source of edible beta carotene
World's top source of tocotrienols
Excellent source of all vitamin E molecules
Ingredients:
Wild, cold-pressed red palm oil and oil of wild rosemary
Nutrients
Beta carotene (4250 per T.)
Vitamin E (2. 6 I.U. per T.)
Medium Chain Tryglycerides
---
*Not intended to diagnose or treat diseases or ailments, and is not reviewed by the FDA.
Uses & Indications.
Maintain Proper Blood Pressure
Ignites Metabolism
Improve Cholesterol Values
Ailments & Concerns.
Cataracts
Arthritis
Alzheimer's Disease
Asthma
Osteoporosis
Macular Degeneration