Wellness Vita-Vault 30pk - Champion Nutrition -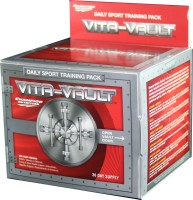 ---
Ingredients & Description
Champion Nutrition's Vita-Vault is one of the most comprehensive daily sport pack on the market. Designed to meet the demands of today's athletes and sports enthusiasts. Each individual sport pack provides the most complete supplement regimen needed to support your training and overall health. Perfect for the athlete on the go, just throw a convenient packet in your gym bag, briefcase, or luggage and you're ready to seize the day.
1 packet daily
30 Packets
Serving Size: 1 Packet
Servings Per Container: 30
Amount Per Serving Amt %DV
MULTIVITAMIN + ENERGY
Vitamin A (Beta Carotene) 5000IU 100%
Vitamin C (Ascorbic Acid) 80mg 133%
Vitamin D3 266 IU 67%
Vitamin E (d-Alpha Tocopheryl Succinate) 40IU 133%
Thiamine 20mg 1333%
Riboflavin 22mg 1293%
Niacin 26mg 130%
Vitamin B-6 (Pyridoxine HCI) 26mg 1300%
Folic Acid 400mg 100%
Biotin 200mcg 67%
Vitamin B-12 80mcg 1333%
Pantothenic Acid 100mcg 1000%
Mineral Blend Calcium 500mg 50%
Magnesium 200mg 50%
Zinc 20mg 133%
Copper 2mg 100%
Manganese 2mg 100%
Chromium 160mcg 133%
Boron 134mcg *
Iodine 100mcg 7%
Selenium 80mcg 113%
Molybdenum 50mcg *
Vanadium 26mcg *
Phytonutrient Blend (Spirulina, Ginger Root, Broccoli, Carrot Root, Parsley, Spinach) 250mg *
Energy Blend (Royal Jelly, Gotu Kola, Ginseng, Guarana, Bee Pollen, Green Tea Extract) 180mg *
Muscle Nitro Blend (L-Alanine, L-Arginine, L-Glutamine, L-Methionine, Taurine) 150mg *
Antioxidant Blend (Choline, CoEnzyme Q-10, Lutein, Lycopene) 104mg *
System Support Blend (Inositol, Rutin, Hesperidin, Betaine HCI, Hyaluronic Acid) 46mg *
ANTIOXIDANT POWER BLEND
Vitamin A (Beta Carotene) 2500IU 50%
Vitamin C (Ascorbic Acid) 500mg 830%
Vitamin E (d-Alpha Tocophyerl Succinate) 200IU 670%
Zinc (Zinc Oxide) 10mg 70%
Selenium (Sodium Selenite) 20mcg 30%
Botanic Blend 125mg *
(Citrus Bioflavonoid Complex, Bilberry Extract, Grape Seed Extract, Green Tea Extract) Alpha Lipoic Acid 25mg *
VITAMIN B COMPLEX
Thiamine (Vitamin B1) 46mg 3067%
Riboflavin (Vitamin B2) 42mg 2471%
Niacin (as Niacinamide) 42mg 210%
Pyridoxine HCI (Vitamin B-6) 32mg 1600%
Panthothenic Acid (calcium pantothenate) 10mg 100%
Choline 50mg *
PABA 50mg %
Inositol 20mg *
Folic Acid 200mcg 50%
Biotin 100mcg *
Vitamin B-12 (cyanocobalamin) 10mcg 167%
PROBIOTICS DIGESTIVE HEALTH FORMULA
Lactobacillus acidophilus 1.0 BIL *
Bifidobacterium Longum 1.0 BIL *
Lactobacillus Rhamnosus 1.0 BIL *
OMEGA-3 FISH OIL
Calories 11
Calories from Fat 9
Total Fat 1.25g 2%
Cholesterol 10mg 3%
Vitamin E (d-Alpha Tocopherol) 1IU 3%
Marine LIpid Concentrate 1000mg **
(Sardines, Mackerel, Anchovy) EPA (Eicosapentaenoic Acid) 180mg **
DHA (Docosahexanenoic Acid) 120mg **
Total Omega 3 Fatty Acids 300mg **
PERFORMANCE BCAAS
L-Leucine 250mg *
L-Isoleucine 125mg *
L-Valine 125mg *
LIVER CLEANSE
Vitamin A (Beta Carotene) 2500IU 50%
Vitamin C (Ascorbic Acid) 60mg 100%
Vitamin E (d-Alpha Tocopheryl Succinate) 30IU 100%
Detoxifying Blend 750mg *
(Milk thistle, Trimethylglycine, Artichoke Leaf Powder)
DIGESTIVE ENZYMES
Protein Digestive Enzyme Blend 90mg
Protease 3.0 8 SAPU *
Papain NF 50,000 PU *
Protease 4.5 5,000 HUT *
Peptidase 250HUT *
Protease 6.0 125 HUT *
Lipase 80mg *
Alpha-Galactosidase 75mg *
Bromelain 42.5mg *
Amylase 40mg *
Invertase 5mg *
Lactase 2.5mg *
Pancreatine 2.5mg *
* % Daily Value is based on a 2,000 calorie diet. Your daily values may be higher or lower based on your calorie needs. Daily Value (DV) not established.
Other Ingredients:
SKU: CHMPWVAU00300000PK
UPC: 27692300010
Distributed or manufactured from Champion Nutrition. See more
Champion Nutrition
products.
---
*Not intended to diagnose or treat diseases or ailments, and is not reviewed by the FDA.
Uses & Indications.
Up To 52g Of Whey Protein Per Serving
Low Lactose
7 Delicious Flavors
Low Carb
Low Sugar
High-Quality Whey Protein Supplement
Ailments & Concerns.