Wasabi Detox -Planetary Formulas- Supports Liver Detoxification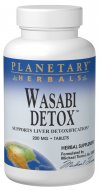 ---
Ingredients & Description
The rare wasabi plant is a natural, potent aid to a healthy, cleansed liver that in turn affects the detoxification and cleansing of the entire body. Planetary Herbals searches the world for the finest botanicals that support your health.
Potent Detoxification - What makes wasabi so special? It comes from a good family; the brassica vegetables in the cruciferae family include such health giants as broccoli, horseradish, Brussels sprouts, cabbage, cauliflower and kale. All of these are well-known detoxifying plants, and wasabi appears to be the most amazing of them all, with detox capacities far beyond the others in the family because it is loaded with isothiocyanate precursors. These chemicals not only give wasabi its famous "fire," they likewise are the source of the plants detoxification properties. Isothiocyanates are formed when wasabi cells are ruptured during digestion. They are then available to help remove toxic substances that are stored in the livers fatty tissues. Because of its popularity, wasabi is now cultivated hydroponically and in cold, wet environments outside of Japan, such as in New Zealand and Oregon.
Phase II Detox - The liver detoxifies the by-products of digestion and other harmful substances through a complex series of chemical reactions often referred to as Phase I and Phase II Detoxification. Phase I enzymes begin the process by taking the toxic molecule and changing it into a bioactive form. This process breaks down toxins. A second set of enzymes, Phase II, then neutralizes the toxin and makes it water soluble for elimination. Wasabi, which forms long-chain isothiocyanates when digested, induces the Phase II enzymes. Simply stated, it is the sparkplug that starts Phase II enzymes on their work.This process, all done in the liver, supports the bodys ability to clean itself of impurities. Wasabi is an herb renowned in Japan and gaining popularity internationally. In the modern world with so many pollutants, our bodies need help cleansing themselves of toxins from the environment. Wasabi, along with a whole food, high-fiber diet and reduction of alcohol consumption, supports a healthy liver-the largest of the vital organs and the key to the digestion and elimination systems and most particularly, the bodys ability to detoxify.
Suggested use: 1 tablet three times daily with food.
Supplement Facts for 200 mg TabletServing Size: 1 tablets Amount % DV Sodium 50 mg 2 % Calcium 57 mg 6% Wasabi Rhizome 200 mg
Other Ingredients: dibasic calcium phosphate, microcrystalline cellulose, stearic acid, and colloidal silicon dioxide.Warning: If you are pregnant, may become pregnant, or breastfeeding, consult your health care professional before using this product. People with acid reflux or interstitial cystitis should discontinue use if discomfort occurs.STORE IN A COOL, DRY PLACE.Do not use if either tamper-evident seal is broken or missing. Keep out of the reach of children.
Planetary Herbals offers the best of classic herbal traditions, from Ayurvedic and traditional Chinese herbalism to the experience of Western herbal practitioners. Utilizing the knowledge of more than 30 years clinical experience, professional herbalists such as Michael Tierra, Lesley Tierra, Jill Stansbury, and Alan Tillotson, Planetary Herbals is committed to ensuring that our time-tested herbal traditions continue to evolve, grow, and flourish.
SKU: PF0566
UPC: 021078105664
Distributed or manufactured from Planetary Herbals. See more
Planetary Herbals
products.