vitomega women (90 vtabs) - Futurebiotics - Mega-Multi + Omega-3 = Comprehensive Nutritional Supplement for Women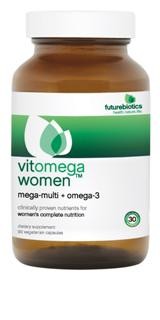 ---
Ingredients & Description
Research has shown that key vitamins and minerals, including full-spectrum carotenoids and Vitamin E tocopherols and tocotrienols, Omega-3 essential fatty acids, and potent natural antioxidants such as Mangosteen and Acai fruit extracts, help maintain and support good health.
VitOmegaWomen contains Caromin®, a premium, full-spectrum carotenoid complex, providing vitamin A activity, which naturally contains alpha-, gamma-, beta-carotene and lycopene. Full-spectrum, natural-source Vitamin E, providing d-alpha, d-beta, d-gamma and d-delta tocopherols, plus a full array of tocotrienols from Tocomin®, are also included.
Vegetarian Flax seed provides Omega-3 and Omega-6 essential fatty acids (EFAs). While each plays an important role in good health, scientific research has shown the benefits of Omega-3 EFAs. Rarely contained in common plant foods, the best way to consume adequate vegetarian Omega-3 EFAs is through supplementation. VitOmegaWomen utilizes Flax seed to provide a vegetarian source of these vital Omega-3 EFAs.
VitOmegaWomen contains antioxidant super-foods Acai and Mangosteen. Antioxidants help reduce free radicals and their damaging effects on cells. Mangosteen fruit contains the highest concentration of xanthones found in any fruit or plant known and are a powerful class of antioxidants. Acai is a Brazilian fruit that contains a potent array of antioxidants.
SoyLife®, a soy germ extract standardized for 40% isoflavones, has been shown to provide phytoestrogen activity. It contains the preferred isoflavone profile of 15:50:35 for the active constituents genistein:daidzein:glycitein.
VitOmegaWomen is potency-enhanced with Futurebiotics BioAccelerators. Clinically-proven Bioperine® (Piper nigrum extract) improves nutrient bioavailability, while our proprietary natural compound of Ginger extract, Trikatu, super-potent Digezyme® and Lactospore® boosts digestion and absorption.
Suggested Use:
As a dietary supplement, take 3 tablets daily, preferably with meals.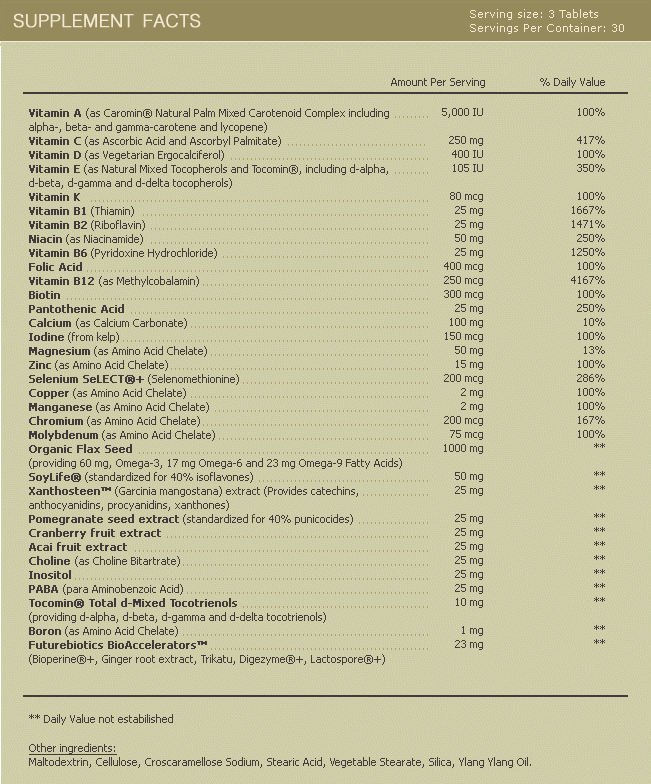 Warning:
Do not use if you are pregnant or nursing.
SKU: SN0791160 /FB0309
UPC: 49479025237
Distributed or manufactured from Futurebiotics. See more
Futurebiotics
products.
---
*Not intended to diagnose or treat diseases or ailments, and is not reviewed by the FDA.
Uses & Indications.
Antioxidant Super Foods: Acai + Mangosteen + Pomegranate
Vegetarian Omega-3 From Flax Seed
Non-Gmo Soylife - Clinically Studied Isoflavones Pro
Caromin And Tocomin - Full-Spectrum Carotenoids Plus Natural Vitamin E Tocopherols & Tocotrienols
Ailments & Concerns.