Vitamin B Complex by Dr. Weil (90 tabs) Comprehensive Supplement Recommendation from Dr. Weil's Vitamin Advisor.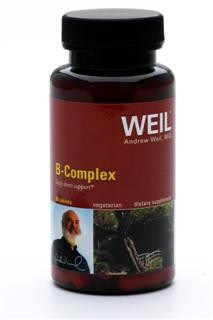 ---
Ingredients & Description
B vitamins help support adrenal function. They also help calm and maintain a healthy nervous system. They are utilized in energy production and the metabolism of proteins, fats and carbohydrates - essential processes in every cell in the important B-vitamins in an ideal ratio.
Suggested Use:
Take 1 vegetarian tablet daily with a meal.
Supplement Facts:
Thiamin (as thiamin mononitrate) 50 Milligrams 3333% Riboflavin 50 Milligrams 2941% Niacin (as niacinamide) 50 Milligrams 250% Vitamin B6 (as pyridoxine HCl) 50 Milligrams 2500% Folic Acid 400 micrgrams 100% Vitamin B12 (as cyanocobalamin) 50 micrgrams 833% Biotin 50 micrgrams 17% Pantothenic Acid 50 Milligrams 500% Choline (as choline bitartrate) 50 Milligrams * Inositol 50 Milligrams * PABA 50 Milligrams * Other Ingredients: Microcrystalline cellulose, Silicon dioxide, Stearic acid, Magnesium stearate, Pharmaceutical glaze.
Warning:
If you are pregnant or lactating, consult a health care professional before using this product.