Vitalzym | Extra Strength Systemic Enzymes | Revolutionary Liquid Filled Enterically Coated Capsule for Enhanced Absortion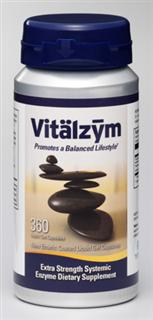 ---
Ingredients & Description
Vitalzym is an all-natural, 100% vegetarian, systemic enzyme supplement with a unique blend of enzymes including a form of serrapeptase. This formulation helps maintain the body's normal chemistry for general wellness and cleansing. Vitalzym is endorsed by renowned healthcare professionals as one of the most popular systemic enzyme supplements on the market today.
The unique blend of vegetarian enzymes, antioxidants and flavonoids has been formulated for 100% bioavailability.
Serrapeptase, a key ingredient in Vitalzym, was originally discovered in Japan and is commercially produced there for medical applications. It has been used as a substitute for animal-derived enzymes, such as chymotrypsin, due to its stronger effect in terms of bradykinin-decomposing activity. The serrapeptase used in Vitalzym is the same as that used by the Japanese pharmaceutical blend of serrapeptase. (Dasen, Takeda Pharmaceutical Company Limited). Vitalzym is highly recommended by healthcare professionals worldwide.
Vitalzym provides enzymes that may help to maintain the body's enzyme amounts needed to support each of the millions of biochemical reactions in our body. Without enzymes, life could not exist.
Serrapeptase: Also known as Serratia peptidase; a proteolytic enzyme isolated from the non-pathogenic enterobacteria Serratia E15. Serrapeptase has been shown to be one of the most popular enzymes available today.
Bromelain: An enzyme found in pineapples that breaks down other proteins, such as collagen.
Papain: A proteolytic enzyme obtained from unripe papaya.
Amylase: Any of a group of proteins found in saliva and pancreatic juice and parts of plants, Amylase digests carbohydrates and helps convert starch to sugar.
Lipase: Lipase digests fat. It is an enzyme secreted in the digestive tract that catalyzes the breakdown of fats into individual fatty acids that can be absorbed into the bloodstream.
Amla: Amla is a great source of Vitamin C.
Rutin: One of the many existing flavonoids. Flavonoids support health by strengthening capillaries and other connective tissue.
Protease:Any enzyme that catalyzes the splitting of proteins into smaller peptide fractions and amino acids by a process known as proteolysis.
Suggested Use:As a dietary supplement, take 3 capsules daily with water. It is best to take Vitalzym at least 30 minutes before a meal, 60 minutes after a meal, or anytime in between meals.
Supplement Facts
Vitalzym
Serving Size: 3 gelcaps
APS
%DV
Proprietary Enzyme Blend
168 mg
**
Vitalzym Proprietary Blend contains: Bromelain, Papain, Rutin, Amylase, Protease, Lipase, Amla, Serrapeptase
**Daily Value Not Established
Other Ingredients: Medium-chain Triglycerides, Starch, Glycerin, Polysaccharide, Corn protein, Beeswax, Glycerin Fatty Acid Ester, Soy Lecithin, Citric Acid.
This dosage recommendation is for most users. The dosage recommended by your healthcare professional may differ. Your healthcare professional may also recommend a higher activation dosage. Warning: If you are currently taking anti-coagulants (blood thinners), do not take this product without the consent of your healthcare professional.
Vitalzym is protected by a recyclable aluminum can
Vitalzym Systemic Enzyme Supplement. Bromelain, Papain, Rutin, Amylase, Protease, Lipase, Amla, and Serrapeptase. Vegetarian, Non-GMO, Enteric Coated Liguid Gel Capsules.
Wobenzym N is the authentic systemic enzyme formula developed by Mucos Pharma in Germany and trusted by millions of people worldwide for over 40 years. Free Shipping on all Wobenzym orders with delivery inside the United States.
SKU: 65612
UPC: 805034656120
Distributed or manufactured from World Nutrition. See more
World Nutrition
products.
---
*Not intended to diagnose or treat diseases or ailments, and is not reviewed by the FDA.
Uses & Indications.
Restoring Enzyme Levels
Reduced Dosage - Increased Effectiveness
Promoting Natural Healing
Enteric Coated Liquid Gel Capsules
Ailments & Concerns.
Fibromyalgia
Autoimmune Disease
Arthritis
Chronic Fatigue
---
Questions and answers:
Asked on: March 22, 2013
Question: what about for Kidney disease,vitalzym can help.


Asked on: February 5, 2014
Question: can a person put serrapeptase topically on a sore or wart or bug bite?


0

0

A: I have not found any information as to serrapeptase being used in a topical form. As we age our bodies natural production of enzymes decreases, Supplementation with Vitalzym,along with proper diet and excercise, will help to maintain normal enzyme levels, balancing your body's own repair mechanisms. Vote down - Vote up