Vitalerbs Formulated from Natural Whole Foods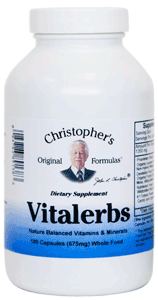 ---
Ingredients & Description
Doctor Christophers Vitalerbs is the ultimate whole-food formula, perfectly balanced the way Mother Nature intended with vitamins & minerals.
Suggested Use:
Take 2 capsules three times a day or as directed by your Health Care Professional. For optimum results take 1 hour before or after meals as to not compete with digestion.
Supplement Facts
Vitalerb
Serving Size: 2 capsules
APS
%DV
Proprietary Blend
Organic Jurassic Green (Alfalfa, Barley, & Non-Hybrid Wheat Grass)
Wildcrafted Rosehips
Wildcrafted Oatstraw Herb
Organic Ginger Root
Organic Purple Dulse Leaf
Organic Dandelion Root
Organic Kelp Plant
Spirulina
Organic Irish Moss
Organic Beet Root, Nutritional Yeast, Cayenne Pepper 40 MHU
Wildcrafted Blue Violet
Carrot
1350 mg
**
** = Daily Value Not Established
Other Ingredients: Plant-derived capsule.
No added Fillers or Chemicals
You have reached Vitalerbs on Seacoast.com from the manufacturer Christophers Original Formulas. We're proud to have served 171 customers since 02/12/2013 who were also interested in purchasing Vitalerbs. It currently ranks as our 3 most popular natural health product.
Technical Vitalerbs Details: Locate this product using sku number or ISBN . For shipping, the weight is equal to 0.25 pounds and is currently out of stock. Typical inquiries include , and natural health. Seacoast Vitamins offers this product at a $10.5 discount off of the suggested retail price $29.9900. Our price is $19.49.