Vegetarian Enzyme Complex 50 Plus (75 tabs) - Futurebiotics - Multi Enzyme Formula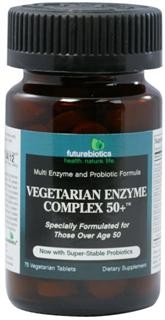 ---
Ingredients & Description
As we age, our bodies may no longer produce adequate digestive enzymes to process and digest the foods we eat. Vegetarian Enzyme ComplexÃÃÂÂÃÂ 50+ contains increased amounts of numerous enzymes to assist in the breakdown of food and assist in the utilization of nutrients, along with digestive support from Fennel and Gentian.
Multiple enzymes, extracted exclusively from vegetarian sources and produced as a result of fungal fermentation, provide a broad range of activity to help support digestion and nutrient absorption by helping the body process fats, proteins, carbohydrates and other difficult-to-digest foods:
Protease, Papain & Bromelain - to help break down proteins;
Lactase - helps break down lactose (milk sugars);
Cellulase - helps break down cellulose and chitin;
Amylase and Invertase - helps break down carbohydrates, such as starch and glycogen;
Lipase - helps break down lipids and improves fat utilization;
Maltase - helps break down starches.
The human body goes through many changes as it ages. Gradual cell loss and reduced cell metabolism affects the performance of digestive organs. Secretions of digestives juices can decrease and motility of the gastrointestinal tract decreases. All of this adds up to a reduction in digestive ability and nutrient absorption. Furthermore, as we age, we often suffer from even greater reduced digestive action, which can lead to gas, bloating and discomfort after eating.
Vegetarian Enzyme ComplexÃÃÂÂÃÂ 50+ has been designed specifically for those over the age of 50 to help assist in nutrient absorption and digestive comfort. Additional digestive support is provided by Fennel seed and Gentian root. Fennel has long been used as a digestive aid, helping to relieve cramps and gas and may help stimulate the appetite. Traditionally, Gentian root has been used to help strengthen stomach activity and improve digestion and appetite.
Glass packaging extends natural freshness and helps maintain product potency.
Suggested Use:
As a dietary supplement for adults, take 1-2 tablets with each meal or as directed by a healthcare professional.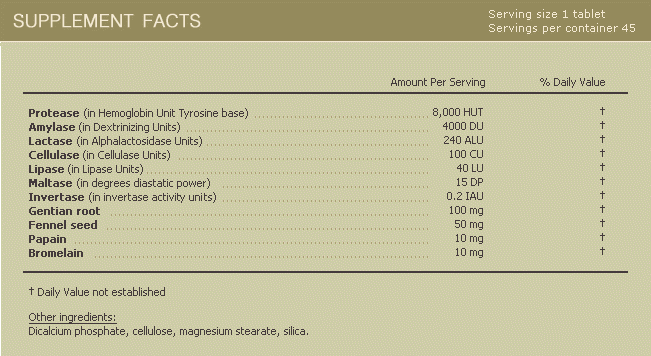 Warning:
Do not use if you are pregnant or nursing.
SKU: SN0408922 /FB0221
UPC: 49479002177
Distributed or manufactured from Futurebiotics. See more
Futurebiotics
products.
---
*Not intended to diagnose or treat diseases or ailments, and is not reviewed by the FDA.
Uses & Indications.
Specifically Designed For Those Over Age 50
Digestive Support With Fennel And Gentian
100% Vegetarian-sourced Enzymes
Ailments & Concerns.