Unbounded Energy (90 tablets) - New Chapter - The Multivitamin for Power and Performance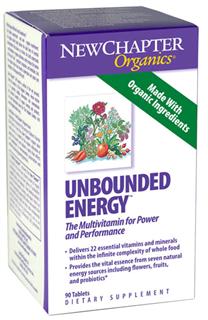 ---
Ingredients & Description
We make contact with unbounded energy every day, through our food, our breath, and our relationships. It flows down to Earth in endless sunlight, captured in organic fruits, roots, and flowers; medicinal mushrooms drink it from the moonlight in a forest. It is there all around us in Nature, and now it is here, in New Chapter's Unbounded Energy. We deliver in this formulation twenty-two of the most essential, bioavailable, and active vitamin and mineral nutrients.
Unbounded Energy also includes seven natural energy sources from extracts of tonic mushrooms, fruits, flowers, leaves, roots, barks, and probiotics. Moon Energy from Reishi and Cordyceps mushrooms is married to the Sun Energy from antioxidant-rich botanicals like schizandra, rhodiola, cherry and blueberry to provide balanced and sustained energy ÃÂ for all phases of life.
Delivers 22 essential vitamins and minerals within the infinite complexity of whole food
Provides the vital essence from seven natural energy sources, including flowers, fruits, and probiotics*
Suggested use:Three tablets daily. Can be taken anytime, even on an empty stomach.
Supplement Facts
Unbounded Energy
Serving Size:3 tablets
APS
%DV
Vitamin A ÃÂ (100% as Beta Carotene)
10,000 IU
200%
Vitamin C*ÃÂ
90 mg
150%
Vitamin D*ÃÂ
100 IU
25%
Vitamin E*ÃÂ
60 IU
200%
Thiamin-Vitamin B1*ÃÂ
2 mg
133%
Riboflavin-VitaminB2*ÃÂ
2 mg
118%
Niacin*ÃÂ
20 mg
100%
Vitamin B6*ÃÂ
2 mg
100%
Folate*ÃÂ
400 mcg
100%
Vitamin B12*ÃÂ
6 mcg
100%
Biotin*ÃÂ
300 mcg
100%
Pantothenic Acid*ÃÂ
10 mg
100%
Iodine*ÃÂ
45 mcg
30%
Zinc*ÃÂ
22 mg
150%
Selenium*ÃÂ
10 mcg
14%
Silicon*ÃÂ
1 mg
ÃÂ
Mixed Carotenoids*ÃÂ6 mgÃÂ
Organic Cultured Herbal Extracts (Proprietary Blend)51 mgÃÂ
Antioxidant ResponseÃÂ
[Cinnamon (bark)ÃÂ, Fenugreek (seed)ÃÂ, Oregano (leaf)ÃÂ, Cumin (seed)ÃÂ, Coriander (seed)ÃÂ, Rosemary (leaf)ÃÂ, Clove (bud)ÃÂ, Allspice (berry)ÃÂ, Peppermint (leaf)ÃÂ]
Immune Support ResponseÃÂ
51 mg
ÃÂ
[Astragalus (root)ÃÂ, Elderberry (berry)ÃÂ, Shiitake (mushroom)ÃÂ, Cordyceps (mushroom)ÃÂ, Reishi (mushroom)ÃÂ, Maitake (mushroom)ÃÂ]
Optimal Stress ResponseÃÂ
51 mg
ÃÂ
[Chamomile (flower)ÃÂ, Lavender (flower)ÃÂ, Eleuthero (root)ÃÂ, American Ginseng (root)ÃÂ, Hawthorn (berry and leaf)ÃÂ]
Superfoods and Spices (Proprietary Blend)
Organic Spinach (leaf)
258 mg
ÃÂ
Organic Blueberry (fruit)
159 mg
ÃÂ
Soy Lecithin (non-GMO)*ÃÂ***
110 mg
ÃÂ
Turmeric (rhizome) 63 mg post-supercritical ethanolic extract, 15 mg supercritical extract
78 mg
ÃÂ
Aloe Vera (leaf)
51 mg
ÃÂ
Ginger (rhizome) 14.4 mg post-supercritical ethanolic extract, 3.6 mg organic supercritical extract
18 mg
ÃÂ
* Daily Value not established.
ÃÂ Nutrients are cultured in organic media that may contain: organic milled soy, organic yeast (Saccharomyces cerevisiae) organic maltodextrin, organic gum acacia, organic orange and lemon peel - natural source of bioflavonoids, organic carrot powder, organic alfalfa powder, enzymes (containing lactose) and lactobacilli (L.acidophilus, L. bifida, L. rhamnosus)
*** A natural source of choline, inositol, linoleic and linolenic acids
Other Ingredients: Organic gum acacia, silica, organic pre-gelatinized maize starch, lac resin, and carnauba wax.
Contains: Fermented soy.
100% vegetarian; no artificial flavors or colors.
SKU: 0675
UPC: 7 27783 00675 2
Distributed or manufactured from New Chapter Nutrition. See more
New Chapter Nutrition
products.