All Original Vegan and Raw Recipes from the founders of Healthforce Nutrition - Jameth and Kim Sheridan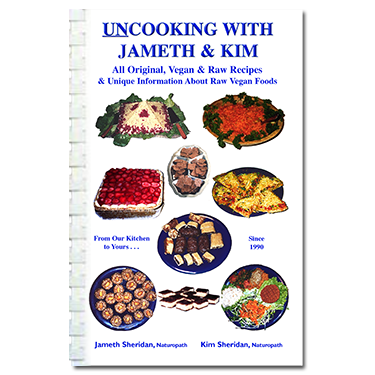 ---
Ingredients & Description
Jameth and Kim gained popularity through their highly acclaimed Uncooking with Jameth & Kim healthy food preparation workshops. They were guest chefs at Hippocrates Health Institute in West Palm Beach, Florida, and their original recipe ideas have influenced the menus of raw food restaurants, health institutes, and food companies over the past 20+ years.
You have reached Un-Cooking with Jameth and Kim on Seacoast.com from the manufacturer HealthForce Nutritionals. We're proud to have served 0 customers since 01/18/2014 who were also interested in purchasing Un-Cooking with Jameth and Kim. It currently ranks as our 1 most popular natural health product.
Technical Un-Cooking with Jameth and Kim Details: Locate this product using sku number or ISBN . For shipping, the weight is equal to 0.25 pounds and is currently out of stock. Typical inquiries include , and natural health. Seacoast Vitamins offers this product at a $3.74 discount off of the suggested retail price $18.6900. Our price is $14.95.