Ultra Guggulow - Doctor's Best - Helps Maintain Normal Healthy Cholesterol Levels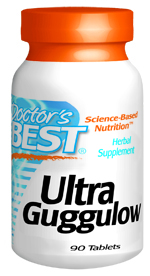 ---
Ingredients & Description
Doctor's Best - Science Based Nutrition
Ultra Guggulow
Guggul (gum guggul) is a resin produced by the mukul mirth tree. Gugulipid comes from guggul and is made up of plant sterols that are believed to lower blood cholesterol levels.UltraGuggulow contains gugulipid standardized to supply 25 mg of guggulsterones per 1000 mg of extract.
Gum guggul is related to myrrh gum and also to Boswellia serrata, another resinous herb prominent in the Ayurvedic materia medica. Gum guggul, often referred to as simply"guggul," has been used in the Ayurvedic herbal tradition since at least 600 B.C. The herb is mentioned in the Vedas, the Holy Scriptures of India, which are estimated to date back anywhere from 3,000 to 10,000 years.
Modern investigation into gum guggul began in 1964,with a series of tests conducted by G.V.Satyavati. The inspiration for this research is an Ayurvedic treatise written in Sanskrit, that describes in detail a condition called "coating and obstruction of channels." Impressed by the apparent analogy to the cardiovascular system, Satyavati and others initiated a series of tests to determine if gum guggul, which was mentioned in the treatise, would have any effect on blood lipid levels. This set the stage for an extensive series of studies on gum guggul's pharmacology and clinical effects.
Gum guggul extract (resin)
1 g (1000mg)
Commiphora mukul; guggulsterones
25 mg
Black pepper extract (fruit)
5 mg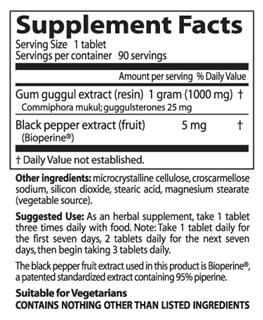 SKU: DRB-00003
UPC: 753950000308
Distributed or manufactured from Doctor's Best. See more
Doctor's Best
products.