Ultra Goji (32 oz.) - Trace Minerals Research - Pure Goji with ConcenTrace made from whole Lycium Barbarum fruit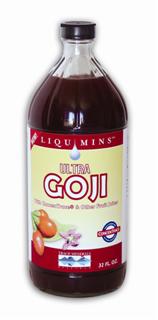 ---
Ingredients & Description
Ultra Goji with ConcenTrace® made from whole Lycium Barbarum fruit contains the following nutrients:
16,000 mg of Pure Lycium Barbarum Goji per Serving
Over 70 ionic trace minerals and elements from ConcenTrace® that help in the activation and absorption of nutrients.
19 Amino acids, including all 8 that are essential for health and wellbeing.
Antioxidant vitamins C and E that help to seek out and destroy roaming free radicals
Solavetivone, a powerful immune-supportive compound.
Lycium Barbarum Polysaccharides (LBPs) 1,2,3,4ÃÃÂÂÃÂthese are glycoconjugates, nutrients in the cells that promote optimum immune function for superior health and wellness
Lycium Barbarum fruit has been used therapeutically to:
Increase energy
Maintain healthy blood sugar levels as a part of the diet
Support optimal immune function
Increase calcium absorption
Suggested Use: Take 2 tablespoons 1-3 times daily with food or mixed into your favorite beverage.
Supplement Facts
Ultra Goji with ConcenTrace
Serving Size:1 ounce
APS
%DV
Calories
<1
0.02
Total Carbohydrates
<1 g
0.02
Sugars
6 g
Vitamin C (Fruit Concentrates, Ascorbic Acid)
60 mg
1
ConcenTrace® Trace Minerals
300 mg
**
*Daily Value (DV) based on a 2,000 calorie diet. **Daily Value not established.
Ingredients: Purified Water (for hydration and to reconstitute fruit concentrate) Goji Berry Concentrate & Extract, Elderberry Concentrate, Mixed Fruit Concentrate, ConcenTrace® Trace Mineral Complex, Natural Flavors. Plus over 70 ionic trace minerals and elements found in sea water.
Allergen Info: contains no known allergens.