Triphala Laxative -Planetary Formulas- Gentle yet effective herbs clear and cleanse the digestive system.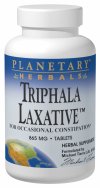 ---
Ingredients & Description
Gentle yet effective herbs clear and cleanse the digestive system.Triphala, an ancient Ayurveda formula, is unique. It works by toning and strengthening the gastrointestinal tract.Digestive and laxative herbs normalize function while not promoting dependency.The solution to the modern problem of occasional constipation is quite ancient: an herbal formula long used in India called Triphala. This three-fruit formula has been used for millennia to tone, strengthen and clear the digestive system while not causing dependency.
Triphala Laxative combines Triphala with well-known Western herbs for a gentle yet effective laxative for occasional constipation. Triphala is a combination of three fruits (tri meaning three, phala meaning fruits) that is described in the ancient Ayurvedic health text Charaka Samhita (circa 1500 BC) and throughout Ayurvedic literature as a tonifying, strengthening blood cleanser and gentle laxative. Each of the three fruits has specific health properties, confirmed by modern research.
BEHADA & HARADA -The fruit of behada and the rind of harada are known as gentle purgatives.
AMLA- The fruit of amla is a rich source of vitamin C, and the other fruits also contain tannins, lignans, and flavonoids that have antioxidant properties.
For thousands of years, this formula has been used in India for healthy digestion and elimination.
The power of Triphala is increased with a number of western herbs also well-known for their digestive and eliminative benefits. Marshmallow and licorice root are soothing demulcents that increase healthy intestinal mucosa and ease irritation by moistening the intestines. Ginger aids digestion. Artichoke increases the flow of digestive bile from the liver and promotes intestinal peristalsis by promoting the breakdown of food particles. Cyperus prevents intestinal cramping that can occur from standard laxatives. Cascara, buckthorn, and rhubarb are traditional laxatives used for hundreds of years that promote effective elimination.
The balanced, holistic approach of Triphala Laxative is a wise alternative for occasional constipation. The gentle qualities of Triphala combined with the western traditional herbs not only cleanse the colon and intestines but strengthen and tone the GI tract.
All laxatives should be used for short periods of time for occasional constipation. Such laxatives should be used in conjunction with a whole food, high fiber diet, plenty of water, and abdominal exercises to promote intestinal health. For long-term promotion of healthy intestinal function, use Planetary Herbals Triphala Internal Cleanser while keeping Triphala Laxative on hand for occasional constipation.
Suggested use: 2 capsules in the morning and 3 capsules in the evening after meals with an 8 ounce glass of water. Do not take for periods longer than two weeks.
Supplement Facts for 690 mg Capsule Serving Size: 3 Capsules Amount % DV Calories 10 Total Carbohydrate 2 g 1% Dietary Fiber 1 g 4% - Proprietary Blend: Chebulic Myrobalan Fruit, Amla Fruit, and Belleric Myrobalan Fruit, Marshmallow Root Extract (4:1), Artichoke Leaf Extract (2.5% cynarin), Chinese Rhubarb Root Extract (4:1), Frangula Bark Extract (15% glucofran-gulin), Ginger Root Extract (4:1), Licorice Root Extract (4:1), Cyperus Rhizome, and Cascara Sagrada Bark Extract (80% cascarosides).2.07 g
Other Ingredients: hydroxypropyl methylcellulose (capsule), colloidal silicon dioxide, magnesium stearate.Warning: This product contains buckthorn, cascara, and rhubarb. Read and follow directions carefully. Do not use if you have or develop diarrhea, loose stools, or abdominal pain because buckthorn, cascara, and rhubarb may worsen these conditions and be harmful to your health. Consult your physician if you have frequent diarrhea or if you are pregnant, may become pregnant, nursing, taking medication, or have a medical condition. STORE IN A COOL, DRY PLACE. Do not use if either tamper-evident seal is broken or missing. Keep out of the reach of children.Do not take for periods longer than two weeks.
Planetary Herbals offers the best of classic herbal traditions, from Ayurvedic and traditional Chinese herbalism to the experience of Western herbal practitioners. Utilizing the knowledge of more than 30 years clinical experience, professional herbalists such as Michael Tierra, Lesley Tierra, Jill Stansbury, and Alan Tillotson, Planetary Herbals is committed to ensuring that our time-tested herbal traditions continue to evolve, grow, and flourish.
SKU: PF0577
UPC: 021078105770
Distributed or manufactured from Planetary Herbals. See more
Planetary Herbals
products.