T-X - ALRI - Rev Up Your Metabolism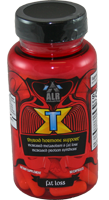 ---
Ingredients & Description
Lipolytic: This term is usually used to describe something with fat-burning effects. It literally means to disintegrate fat. Think about that as you read on. T-X is an anti-catabolic thyroidal lipolytic matrix designed to promote a physiological repartitioning affect that supports increased protein synthesis while utilizing fat stores as a primary energy supply. The key is a unique synergy between ALR Industries compounds to promote optimal natural thyroid function, while augmenting thyroid hormone levels with our two highly active naturally occurring thyroid hormone analogs. The result is obvious: More lean mass, way less fat for the same effort and better over-all thyroid health.
Suggested Use:As a dietary supplement take one capsule 2-3 times daily with food and liquids for 3-6 weeks then discontinue for 3-4 weeks. Do not exceed more than 6 weeks of continuous use.
Cautions: NOT FOR USE BY INDIVIDUALS UNDER THE AGE OF 18 YEARS. DO NOT USE IF PREGNANT OR NURSING. Consult a Physician before using this product if you have, or have a family history of, including but not limited to high blood pressure, cardiac arrhythmias, heart, liver, kidney, thyroid, or psychiatric disease, phenochromacytoma, diabetes, asthma, recurrent head aches, anemia, nervousness, anxiety, depression or other psychiatric condition, peptic ulcers, Parkinson's disease, glaucoma, difficulty in urinating, prostate enlargement, or seizure disorder, or if you are using a monoamine oxidase inhibitor or any other dietary supplement, prescription drug, over over-the-counter drug containing ephedrine, pseudophedrine, or phenylpropanolamine (ingredients found in certain allergy, asthma, cough or cold, and weight control products). Do not exceed recommended serving. Exceeding recommended serving may cause serious adverse health effects, including heart attack and stroke. Discontinue use and call a physician or licensed qualified health care professional immediately if you experience rapid heartbeat, dizziness, severe headache, shortness of breath, or other similar symptoms. Individuals who consume caffeine with this product may experience serious daverse health effects and those that are sensitive to the effects of caffeine should consult a Physician before consuming this product. Improper use of this product may be hazardous to a person's health. Do not use during strenuous activity in high temperature conditions (greater than 80 degrees F). Drink at least 2 liters of water daily when using this product.
SKU: ALRITHYR00600000CP
UPC: 94922534781
Distributed or manufactured from ALRI. See more
ALRI
products.
---
Questions and answers:
Asked on: February 27, 2013
Question: is this as good as muscel x edge?


0

0

A:

We do not sell muscle x edge so I am not very familiar with it compared to T-X. The synergy between ALR Industries compounds in T-X promotes optimal natural thyroid function, while augmenting thyroid hormone levels with our two highly active naturally occurring thyroid hormone analogs, resulting in more lean mass and way less fat. Vote down - Vote up

Asked on: April 22, 2014
Question: can this product be shipped to Fiji Islands if bought???


0

0

A: We ship domestically to all 50 states and internationally worldwide. If you place an order online at Seacoast.com we will expedite your order to the Fiji Islands immediately. Should you need further assistance our Customer Service Department can be contacted at 1-800-555-6792 or you can email us at orders@seacoastvitamins.com Vote down - Vote up