Super Omega by Dr. Weil (60 softgels) Comprehensive Supplement Recommendation from Dr. Weil's Vitamin Advisor.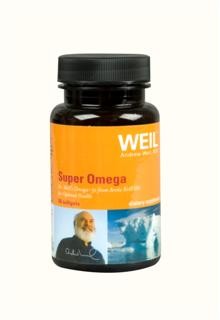 ---
Ingredients & Description
Both krill oil and fish oil are excellent sources of omega-3 fatty acids, but krill - small, shrimp-like animals found in cold Arctic waters- have some exceptional properties. Krill oil is the only known marine oil that offers naturally pure omega-3 fatty acids bound to phospholipids, which allow the body to absorb omega-3 fatty acids more efficiently than typical fish oil.* Additionally krill oil contains a potent antioxidant blend: vitamin A, vitamin E and astaxanthin are natural components of krill oil, and they work synergistically to deliver antioxidant protection that far exceeds most fish oils.* Andrew Weil, M.D.
Suggested Use:
As a dietary supplement, take 2 softgels daily with a meal.
Supplement Facts:
Calories 10 Calories from Fat 10 Total Fat 1 g* 2% Saturated Fat 0 g* 0% Trans Fat 0 g* * Vitamin A 60 I.U 1% NKO Neptune Krill Oil 600 mg * EPA (Omega-3 Fatty Acid) 90 mg * DHA (Omega-3 Fatty Acid) 54 mg * Omega-6 Fatty Acids 12 mg * Omega-9 Fatty Acids 51 mg * Esterified Astaxanthin 900 mcg * Phospholipids 240 mg * Other Ingredients: Gelatin, glycerine.
Warning:
People with seafood allergy, coagulopathy or taking anticoagulants or other medications should notify their physicians and be tested prior to taking this product.
Pure Krill Oil is a rich source of antioxidants, phospholipids, and Omega 3 supporting mobility, heart health, healthy cell membranes and reducing PMS discomfort. NKO, ArcticPure, Neptune Krill Oil.