Stress Take Care (60 soft gels) - New Chapter - Mastering Everyday Stress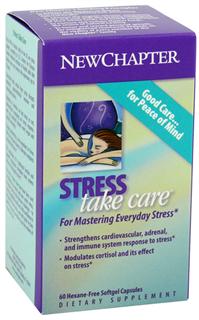 ---
Ingredients & Description
Regardless of whether we feel stress or not, conscientiously managing our stress response, every day, positively impacts every organ and system in our bodies. Curcuma xanthorrhiza, a key ingredient in Stress Take Care, has been shown to alleviate symptoms associated with stress.* The combination of 9 traditional herbals and powerful adaptogens strengthen body systems that can be damaged by stress.
The herbs in Stress Take Care have been used for millennia by women and men under stress, to prepare them for the ultimate challenge to create a dignified life well lived. With confidence in the power of these herbs, and with pride in their potency and purity, we offer to you the wisdom of Stress Take Care. Up to 90% of doctor visits in the US are stress related, according to U.S. Centers for Disease Control. National Institutes of Health adds that chronic stress may shorten life expectancy up to 20 years. Chronically high cortisol from stress disrupts endocrine, gastrointestinal, immune and neurological systems.
Strengthens cardiovascular, adrenal, and immune system response to stress
Modulates cortisol and its effect on stress
CURCUMA XANTHORRHIZA Rich in xanthorrhizol known for promoting a healthy inflammation response.* A foundation herb of Jamu, Indonesias traditional medical system.
SCHIZANDRA The berries of this vine are prized for enhancing physical and mental endurance and optimizing normal detoxification mechanisms.* Considered the Emperors Herb in ancient China, its five flavors represent the five elemental energies of Traditional Chinese Medicine.
AMERICAN GINSENG Most prized ginseng of the U.S., rich in a specific balance of ginsenosides (Rb1:Rg1) to gain that crucial advantage over stressful events.
ELEUTHERO Contains constituents called eleutherosides that encourage balanced adrenal gland function and enhanced immune system intelligence.
RHODIOLA A rich source of salidrosides categorized by Russian researchers as an adaptogen possessing profound cardioprotective properties.
GALANGA Extract long revered for its ability to enhance sexual performance, soothe the digestive system and in modern research to reduce oxidative stress.* A foundation herb of Jamu.
TURMERIC The worlds most important herb supporting cardiovascular and detoxification systems under conditions of stress.
ASTRAGALUS Ancient Chinese herb valued for its ability to strengthen the cardiovascular and immune systems during periods of stress.
GINGER Supports normal cardiovascular function, contains numerous natural inflammation modulating constituents and improves the formulations bioavailability.*
Suggested use:Take two softgels daily, in the middle of a larger meal with an 8 oz. glass of water.
Supplement Facts
Stress Take Care
Serving Size:2 Softgels
APS
%DV
Curcuma xanthorrhiza
100 mg
*
(Rhizome) 34 mg supercritical extract (min. 25 % curcuminoids- 8.5 mg and min. 7 % xanthorrhizol- 2.4 mg) and 66 mg ethanolic extract (min. 3 % curcuminoids- 1.98 mg)
Schizandra
100 mg
*
(Schisandra chinesis) (berry) (min. 1.6 % schizandrins- 1.6 mg)
American Ginseng
100 mg
*
(Panax quinquefolius) (root) (min.4 % ginsenosides- 4 mg)
Eleuthero
100 mg
*
(Eleutherococcus senticosus) (root) (min. 0.6 % total eleutherosides-0.6 mg)
Rhodiola
100 mg
*
(Rhodiola rosea) (root) ethanolic extract (5.4-6.6 % total rosavins, including 3.6- 4.4 % rosavin and 0.9-1.1 % salidrosides)
Galanga
100 mg
*
(Alpinia galanga) (rhizome) 26 mg supercritical extract (min.60 % total curcuminoids-15.6 mg, min. 1 % 1,8 cineole- 0.26 mg) and 74 mg ethanolic extract)
Turmeric
50 mg
*
(Curcuma longa) (rhizome) 10 mg supercritical extract (min. 45 % turmerones- 4.5 mg), and 40 mg ethanolic extract (min. 11 % curcuminoids-4.4 mg)
Astragalus
50 mg
*
(root) (min 0.4 % hydroxy-3-methoxyisoflavone-7-sug-0.2 mg)
Ginger
20 mg
*
(Zingiber officinale) (rhizome) 4 mg supercritical extract (min. 30 % pungent compounds- 1.2 mg and min. 8 % zingiberene- 0.32 mg) and 16 mg ethanolic extract (min. 2 % pungent compounds- 0.32 mg)
** Percent Daily Values are based on a 2,000 calorie diet
*Daily Value not established
Olive oil-extra virgin, maltodextrin and yellow beeswax.
Capsule: Gelatin, vegetable glycerine, water and carob.
Our premium softgel capsules are prepared without any chemical solvents and are prion free.
SKU: 0404
UPC: 7 27783 00404 8
Distributed or manufactured from New Chapter Nutrition. See more
New Chapter Nutrition
products.
---
Questions and answers:
Asked on: September 6, 2013
Question: You can stress take care while you are taking norvasc for blood pressure.