Splish Splash Natural Bath Filter | New Wave Enviro | Enjoy a Healthier Chlorine Free Bath Experience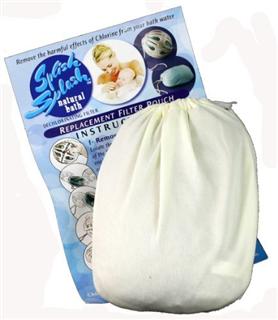 ---
Ingredients & Description
Splish Slash Natural Bathtub Filter - Replacement Cartridge
Splish Slash Natural Bathtub Filter by New Wave Enviro (formerly The Crystal Ball) removes the harmful effects of chlorine from your bath. You will enjoy a healthier bathing experience with natural-feeling rainwater-like freshness! A Chlorine-free bath leaves you with softer skin and hair and improves lathering and sudsing. Splish Slash Natural Bathtub Filter will dechlorinate the average bath in just minutes! Splish Splash is non-toxic, safe for the whole family (pets too)! Splish Splash is filter effective for 200 baths (one year of average use).
Inside the filter pouch is a special alloy, KDF, which on contact with Chorine ions in the water converts them into harmless Chloride salts. Chlorine is a highly toxic element, used to chemically disinfect water, but also very harsh, stripping proteins from your skin and hair, leaving it dry and itchy, and irritating sensitive areas. Removing the Chlorine helps to protect your skin and hair, leaving it feeling softer, much like bathing in fresh rainwater.
SKU: 30078
UPC: 79651530078
Distributed or manufactured from New Wave Enviro. See more
New Wave Enviro
products.