Soy Genistein Isoflavone Powder -Planetary Formulas- Soys Secret for Womens Health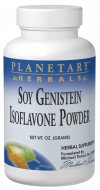 ---
Ingredients & Description
Planetary Formulas Soy Genistein Isoflavone 1000. Soys Secret for Womens Health. Planetary Formulas Soy Genistein Isoflavone 1000 contains over 15 mg of genistein, 65 mg of daidzein, and 125 mg of total isoflavones per four 1000 mg tablets.
Genistein and Estrogen.
The subject of scientific studies since 1966, genistein research has been published in many respected journals. In vitro, genistein has been shown to bind to the same receptor sites as estrogen (3, 7). This may help to maintain normal menstrual cycles and menopausal transitions by two competing and seemingly paradoxical actions. By competing for human estrogen receptors, genistein may reduce the effects of estrogen in the body (3, 7). Conversely, when there is too little estrogen (the situation during menopause), phytoestrogens - genistein and daidzein - may substitute for the lack of human estrogen, mitigating the effects of its absence (3, 7).
Genistein and Cell Growth
One of genisteins most promising functions is its potential to inhibit capillary proliferation. (5, 10, 13) According to studies done in vitro, genistein protects tissues by neutralizing vascular endothelial growth factor (vegF) (8).Soybeans are the only significant dietary source of genistein; however, most Americans fail to consume soy foods in significant amounts. In Asia, the daily intake can be up to 20 times that of a Western diet.
Pure Maximum Potency.
Planetary Formulas Soy Genistein Isoflavone 1000 is made from the germ of isoflavone-rich soybeans, using a chemical-free process that yields a consistent standardized isoflavone content. It requires approximately 400 pounds of soybeans to yield just one pound of finished product. With Soy Genistein Isoflavone 1000, Planetary Formulas brings the remarkable properties of a time-honored food plant into your wellness program today.
Suggested use: Take 1 teaspoon daily. Blends well with water or juice.
Supplement Facts for PowderServing Size: 1 Teaspoon (approx. 2.5 g) Amount%DVCalories10 Total Carbohydrates1 g<2%Protein1 g2%Iron0.4 mg<2%Isoflavone-rich Soybean Concentrate (Soylife) Average Yield:2.5 gDaidzein42.5 mgGlycitein25 mgGenistein10 mgTotal Isoflavones:77.5 mg
Warning: If you are pregnant or breastfeeding, consult your health care professional before using this product.STORE IN A COOL, DRY PLACE.Do not use if either tamper-evident seal is broken or missing. Keep out of the reach of children.Suggested Use: Take 1 teaspoon daily. Blends well with water or juice.
Planetary Herbals offers the best of classic herbal traditions, from Ayurvedic and traditional Chinese herbalism to the experience of Western herbal practitioners. Utilizing the knowledge of more than 30 years clinical experience, professional herbalists such as Michael Tierra, Lesley Tierra, Jill Stansbury, and Alan Tillotson, Planetary Herbals is committed to ensuring that our time-tested herbal traditions continue to evolve, grow, and flourish.
SKU: PF0467
UPC: 021078104674
Distributed or manufactured from Planetary Herbals. See more
Planetary Herbals
products.
---
Questions and answers:
Asked on: February 17, 2013
Question: Prostate cancer?


0

0

A: Studies have shown that soy isoflavones may benefit some patients with Pca. As with any supplement, it is always best to consult with your physician if you have any medical conditions or are taking any prescription drugs as they can advise best. http://www.ncbi.nlm.nih.gov/pubmed/15087261 Vote down - Vote up

Asked on: March 12, 2013
Question: Soy Genistein Isoflavone is that for prostate caner