Sinus Take Care (30 soft gels) - New Chapter - For Keeping Your Sinuses Clear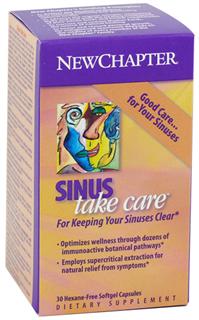 ---
Ingredients & Description
Optimizes wellness through dozens of immunoactive botanical pathways* Contains Multiple Supercritical Immune Stimulating Constituents* Certain herbs are traditionally respected and scientifically studied to support our immune systems. New Chapter® has extensively researched the herbal pharmacopoeia and international medical databases and discovered that the following time-tested herbs, properly extracted and blended in the correct proportions, contain multiple immune stimulating constituents:
OREGANO One of natures most important immune defenders; containing, according to the USDA, at least 36 supportive constituents including the antioxidant compound carvacrol.
GARLIC Supercritical extract delivers the broadest spectrum of natures most effective immuno-supportive organosulphur molecules.
ECHINACEA Combination of Potency Assured angustifolia and purpurea extracts synergize to optimally modulate and support healthy immune response.
ELDERBERRY Research has demonstrated significant potential of this fruit extracts components to support healthy immune function.
GOLDENSEAL Long history of use in traditional medicine for its treasured immune-supportive benefits.
MYRRH Traditionally combined with goldenseal and shown to possess novel immunoactive compounds.
ANDROGRAPHIS Asian herb extract prized for its ability to modulate immune function with its unique Potency Assured compounds called andrographolides.
GREEN TEA A rich source of safe and effective compounds, like polyphenols, valued for balancing the immune system.
ASTRAGALUS Revered Chinese herb valued in traditional medicine for immune support and in modern research for enhancing natural killer cell activities
SALICIN COMBINATION: WINTERGREEN, MEADOWSWEET, AND PURPLE WILLOW Natural sources of salicylic acid and other important phytocompounds to promote comfort
MELISSA Rich in antioxidant flavonoid compounds to reduce damage caused by free radical stress.
GINGER Long revered for its immune-supportive effects, recent British research shows at least 12 phytocompounds with immune-defensive benefits.
EUCALYPTUS Time-honored remedy to improve respiration and support normal immune functions.
PEPPERMINT Time-tested remedy for soothing the digestive system and countering unfriendly flora.*
Suggested use:Take one softgel daily in the middle of a larger meal with an 8 oz. glass of water.
Supplement Facts
Sinus Take Care
Serving Size:1 softgel
APS
%DV
Garlic (bulb) 10 mg supercritical extract (min. 1.6 % stable sulphur-nutrients from allicin-0.16 mg) and 30 mg ethanolic extract (min. 0.2 % cysteine compounds)
40 mg
*
Oil of Oregano (leaf) supercritical extract (min. 3 % carvacrol-0.9 mg)
30 mg
*
Echinacea (Echinacea purpurea) (leaf and flower) 15 mg (min. 3 % polyphenols-0.45 mg) and (Echinacea angustifolia) (root) 15 mg (min. 1.6 % echinacoside-0.24 mg)
30 mg
*
Elderberry (berry) (min. 24 % anthocyanins-7.2 mg)
30 mg
*
Goldenseal (root) (min. 4 % berberine-1.2 mg)
30 mg
*
Andrographis (Andrographis paniculata) (leaf) (min. 8 % andrographolides-2.4 mg)
30 mg
*
Green Tea (leaf) (min 40 % polyphenols-12 mg)
30 mg
*
Astragalus (root) (min. 0.6% isoflavones-0.18 mg)
30 mg
*
Melissa (leaf) supercritical extract (min. 0.8 % essential oil-0.24 mg) (including neral and geranial)
30 mg
*
Myrrh (Commiphora abyssinica) (gum resin) 6 mg supercritical extract (min. 25% sesquiterpenes-1.5 mg) and (Commiphora molmol) 24 mg ethanolic extract
30 mg
*
Wintergreen extract, salicylic acid derivatives***
15 mg
*
Ginger (rhizome) 2 mg supercritical extract (min. 30 % pungent compounds-0.6 mg and min. 8 % zingiberene-0.16 mg) and 8 mg ethanolic extract (3 % pungent compounds- 0.24 mg)
10 mg
*
Eucalyptus (leaf) oil
7.5 mg
*
Peppermint (leaf) supercritical extract (min. 26 % menthol -1.8 mg)
7.5 mg
*
Meadowsweet extract, salicylic acid derivatives***
7.5 mg
*
Purple Willow (Salix purpurea) extract, salicylic acid derivatives***
7.5 mg
*
* Daily Value not established.
*** Combined salicylic acid derivatives equal 20 %
** Percent Daily Values are based on a 2,000 calorie diet
*Daily Value not established
Other ingredients: Olive oil-extra virgin, maltodextrin, cellulose, and yellow beeswax.
Capsule: Gelatin, vegetable glycerine, water, and carob.
SKU: 0405
UPC: 7 27783 00405 5
Distributed or manufactured from New Chapter Nutrition. See more
New Chapter Nutrition
products.