SeaGest - Trimedica - Clinically-Proven Digestive Therapy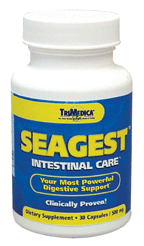 ---
Ingredients & Description
SeaGest provides nearly 100% assimilation of all the critical nutrients needed for optimum digestion and intestinal health including:
Pure, potent protein that repairs damaged intestinal cells and tissue.
Unique peptides for problem digestion and pain relief.
Powerful Omega-3 fatty acids, nutrients, and trace minerals in an ultra-absorbable form that nourishes the body while repairing damaged stomach and intestinal tissues.
Trace minerals for energy, stamina and digestion.
Actually Repairs Intestinal Wall Tissue, Dramatically Increasing Nutrient Absorption
Clinically-Proven To Improve IBS Symptoms
Improvement In Leaky Gut Syndrome In Clinical Trials
Dramatically Nourishes The Entire Body While Repairing Malabsorption Syndrome
Most people today dont assimilate nutrients because their stomach and intestinal walls are irritated and damaged by poor diets, junk foods and stress. Once you stop absorbing nutrients, your whole body begins to break down.
With SeaGest you are getting the most readily available and easily absorbed form of protein there is. SeaGest is low in salt, cholesterol and saturated fats. The pre-digested protein in SeaGest is available almost immediately to the body and offers unique, powerful benefits to your intestinal tract and your entire body. And SeaGest is backed by a 40-year history of safe clinical use!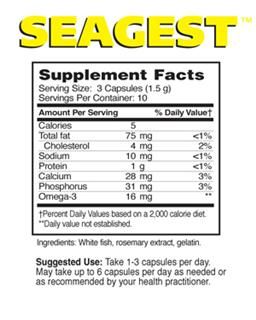 Clinical Studies
The power of SeaGest is amazing! Doctors have seen extraordinary improvements in patients using SeaGest. In random, double-blind, placebo-controlled clinical studies performed on patients with Leaky Gut (holes in the intestinal wall) in Hanover, Pennsylvania, the patients were given 3 grams of SeaGest per day. In six weeks, the symptoms disappeared and the bowel was strengthened by an average of 79%.
In another clinical study, patients diagnosed with irritable bowel syndrome (IBS) were invited to become study participants in a 30/60-day outcome-based clinical study employing questionnaires to evaluate results. The study showed that SeaGest reduced the symptoms of occasional diarrhea and constipation, and alleviated bloating and gas on a dose of 3 grams per day for sixty days.
In study after study, SeaGest has been proven to be extraordinarily effective in providing powerful nutritional support for the intestinal tract, the immune system and energy and resistance levels.
Whole Body Cleanse, Improved Formula by Enzymatic Therapy. Whole Body, Liver, Metal, Simple 5-day, Stress and Whole Body Cleanses Now On Sale
SKU: 0410
UPC: 744665004100
Distributed or manufactured from TriMedica. See more
TriMedica
products.