RTD's Redline Princess Apple (4 bottles, 8 oz) - VPX Sports - Advance to the Next Level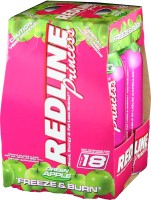 ---
Ingredients & Description
Brand new RTD breakthrough designed especially for women, REDLINE PRINCESS. The biggest concern women seem to have with most energy products is that they do not want to feel totally jacked up! Redline Princess however, provides women with the same level of energy as original Redline, but with the added bonus of appetite suppression and mood enhancement, which is nothing short of euphoric. Cutting-edge compounds formulated in Princess work synergistically to burn fat and increase mood and mental focus, while decreasing appetite. VPX Scientists even added a little bit of -Alanine (an amino acid that acts as a buffer to delay fatigue) to allow you to exercise longer and harder, which ultimately help get you that much closer to your dream physique. Beta-Phenylethylamine HCl (PEA) contained in Princess raises blood pressure and blood glucose. The result is that we feel more alert and gives us a sense of well-being and contentment. PEA is known as the love drug" and is thought to be the reason why chocolate is an aphrodisiac. PEA mimics the brain chemistry of a person in love, so when the levels of PEA (phenylethylamine) are high in the body depression is relieved. REDLINE PRINCESS enhances Mental Clarity, Mood, Energy and Fat Loss.
Suggested Use:
Supplement Facts:
Serving Size 1/2 can Calories 0 0% Total Carbohydrates 0g 0% Sugars 0g 0% Total Fat 0g 0% Saturated Fat 0g ** Unsaturated Fat 0g 0% Proprietary Blend < 20% Vitamin C - 200% Caffeine Anhydrous 125mg ** Beta-Phenyletylamine HCI - ** Hordenine HCL - ** Evoburn - ** N-methyl Tyramine - ** 5-hydroxycut-L-tryptophan - ** Potassium - 1% Vinpocetine - ** Yohimbe HCL - ** St. John's Wort Pure Extract - ** *Percent daily values (DV%) are based on a 2000 calorie diet. **Daily values not established
Other Ingredients:
Highly Purified Water, Citric Acid, Natural and Artificial Flavor, Sucralose, Potassium Dibasic, Potassium Sorbate and Disodium EDTA. A normal reaction of Redline Princess is tingling of skin. Redline Princess contains no Niacin.
You have reached RTDs Redline Princess Apple on Seacoast.com from the manufacturer VPX Sports. We're proud to have served 928 customers since 02/15/2010 who were also interested in purchasing RTDs Redline Princess Apple. It currently ranks as our 0 most popular natural health product.
Technical RTDs Redline Princess Apple Details: Locate this product using sku number or ISBN . For shipping, the weight is equal to 15.00 pounds and is currently out of stock. Typical inquiries include VPX Sports, and natural health. Seacoast Vitamins offers this product at a $1.01 discount off of the suggested retail price $13.9600. Our price is $12.95.
SKU: VPXSRTDRP0024APPLLQ
UPC: 610764374646
Distributed or manufactured from VPX Sports. See more
VPX Sports
products.