RTD's Redline Grape(4 bottles, 8 oz) - VPX Sports - Advance to the Next Level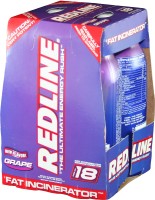 ---
Ingredients & Description
Just recently VPX launched the technology of fat burning and energy enhancement into a new era with the introduction of Redline. This freaky scientific breakthrough is the first physique-transforming matrix to coax your body to burn fat through the shivering response.It is a physiological fact that when you shiver, your body releases a large amount of stored body fat in an attempt to bring body temperature back to normal. Redline induces this effect quite efficiently. However, the power of Redline does not stop there, as its radical combination of novel ingredients will also have you sweating up a thermogenic storm, and thus burning fat through yet another unique mechanism. With this 1-2 fat melting punch, Redline has rendered fat burners of the past obsolete! When it comes to energy, Redline will you to the max within minutes, ready to tear apart the weights and wear out the treadmill like a tiger released from its cage! Now, what if I told you that the power of Redline is NOW available in a refreshing, tasty, and convenient ready to drink can?
Suggested Use:
Supplement Facts:
Serving Size 1/2 can Calories 0 0% Total Carbohydrates 0g 0% Sugars 0g 0% Total Fat 0g 0% Saturated Fat 0g ** Unsaturated Fat 0g 0% Proprietary Blend < 20% Vitamin C - 378% Caffeine Anhydrous - ** Evoburn - ** N-acetyl-L-tyrosine - ** Yerbe Mate - ** Green Tea - ** 5-hydroxycut-L-tryptophan - ** Vinpocetine - ** Yohimbe HCL - ** *Percent daily values (DV%) are based on a 2000 calorie diet. **Daily values not established
Other Ingredients:
Highly Purified Water, Citric Acid, Carmine Red, Liquid Red, Sucralose, Potassium Sorbate, Natural and Artificial Flavor and Natural Colors.
You have reached RTDs Redline Grape on Seacoast.com from the manufacturer VPX Sports. We're proud to have served 872 customers since 02/15/2010 who were also interested in purchasing RTDs Redline Grape. It currently ranks as our 0 most popular natural health product.
Technical RTDs Redline Grape Details: Locate this product using sku number or ISBN . For shipping, the weight is equal to 15.00 pounds and is currently out of stock. Typical inquiries include VPX Sports, and natural health. Seacoast Vitamins offers this product at a $1.01 discount off of the suggested retail price $13.9600. Our price is $12.95.
SKU: VPXSRTDR0024GRAPLQ
UPC: 610764374523
Distributed or manufactured from VPX Sports. See more
VPX Sports
products.