RTD's Power Pump 7 Grape (4 bottles, 8 oz) - VPX Sports - Advance to the Next Level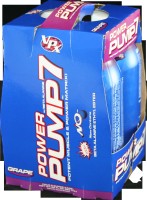 ---
Ingredients & Description
Induce radical growth by fueling intracellular mechanisms with POWER PUMP 7! The compounds found in POWER PUMP 7 will produce freaky pumps, enhance stamina, reduce lactic acid, jack up strength, and increase nutrient uptake into muscle cells. Within days POWER PUMP 7 will have your muscles looking rounder, fuller, and swollen to the max. Powered by BAEX (Beta Alanine Ethyl Ester HCl) and Arginase Inhibitors to prolong the biological activity of Arginine Ethyl Ester in the body. This is hugely important because Nitric Oxide (NO2) is a gas that is metabolized within seconds in the body. BAEX is a far superior pharmaceutical delivery compound than A-AKG (Arginine a-Ketoglutarate). A-AKG is a simple Arginine salt that has proven to be ineffective at increasing muscle mass.
Suggested Use:
Directions:Shake well prior to use. For best results use one to two servings of BAEX POWER PUMP 7 with Beta Alanine everyday including non-training days: 1) Prior to and/or during training, BAEX POWER PUMP 7 with Beta Alanine can be used by itself or 2) consumed together with a ZERO IMPACT PROTEIN shake. BAEX POWER PUMP 7 with Beta Alanine can be synergistically stacked with CEX. ZERO IMPACT PROTEIN is recommended to fulfill increased protein requirements. Keep out of reach of children. For individuals 17 years of age or older
Supplement Facts:
Serving Size 1 can Servings Per Container 1 Calories 60 Total Carbohydrates 11g 4% Sugars 0g 0% Total Fat 0g 0% Saturated Fat 0g 0% Proprietary blend 12428mg Glycerine Beta Alanine Di-Arginine Malate Citruline Malate MTB Pump 1, 3, 7 trimethylxanthine L-Nor Valine Beta-Phenylethylamine HCL Percent Daily Values are based on a 2000 calorie diet
Other Ingredients:
Purified water, Citric Acid, Natural and artificial flavors, potassium sorbate, sucralose
You have reached RTDs Power Pump 7 Grape on Seacoast.com from the manufacturer VPX Sports. We're proud to have served 1631 customers since 02/15/2010 who were also interested in purchasing RTDs Power Pump 7 Grape. It currently ranks as our 1 most popular natural health product.
Technical RTDs Power Pump 7 Grape Details: Locate this product using sku number or ISBN . For shipping, the weight is equal to 15.00 pounds and is currently out of stock. Typical inquiries include VPX Sports, and natural health. Seacoast Vitamins offers this product at a $1.01 discount off of the suggested retail price $13.9600. Our price is $12.95.
SKU: VPXSRTDP0024GRAELQ
UPC: 610764020413
Distributed or manufactured from VPX Sports. See more
VPX Sports
products.