QH-Absorb - Jarrow Formulas - Superior Bioavailability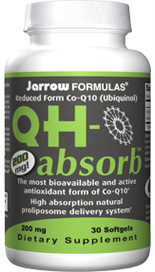 ---
Ingredients & Description
Ubiquinol is the reduced (active antioxidant) form of Co-Q10, the form which is directly used in human metabolism as a lipid-soluble antioxidant. While standard Co?Q10 (ubiquinone) supplements can be activated in the body, this activation can be less efficient in some individuals, based on age or genetics.* The Ubiquinol of our QSURGE formula directly provides the activated form, and also has superior bioavailability to ubiquinone, as demonstrated in clinical trials.*
QH-absorb utilizes the Q-absorb natural proliposome lipid-soluble delivery system, which has been clinically shown in humans to increase Co-Q10 levels up to 400% (3.2x) over baseline and is 3-4 times better absorbed than chewable Co-Q10 tablets. Co-Q10 supports heart function as a component of the electron transport system, and as an antioxidant protects mitochondrial membranes and cholesterol from oxidation.*
Jarrow FORMULAS ubiquinol is derived from Co-Q10 that is maufactured via a yeast-fermentation process and consists only of the natural trans configuration, the same as is biosynthesized by humans. Jarrow FORMULAS supports clinical research on Coenzyme Q10
Take 1 to 4 softgels per day with food, or as directed your qualified health care consultant.

Other Ingredients:Medium chain triglycerides, phosphatidylcholine (from soy lecithin), beeswax, rosmarinic acid, vitamin E, and ascorbyl palmitate.
Softgel consists of gelatin, glycerin and water. Carob and caramel extract added as a light barrier.
No wheat, no gluten, no dairy, no egg, no fish/shellfish, no peanuts/tree nuts.
High absorption natural proliposome delivery system* QSURGE formula - the most bioavailable and active antioxidant form of Co-Q
SKU: QH200
UPC: 790011060246
Distributed or manufactured from Jarrow Formulas. See more
Jarrow Formulas
products.