Bodybuilding Supplements - Muscle Growth - Testosterone Supplements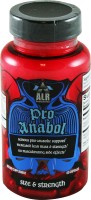 ---
Ingredients & Description
ALR Industries has designed what may well be the premiere safe and truly effective pro-anabolic for both men and women. Everyone in the supplement industry and the athletic community at large has been looking for the next so-called "pro-hormone replacement. Pro-hormones of the past were so effective that looking for something as good or better has become a bit of an obsession. Who didn't like the muscle gains seen during cycles of the more powerful pro-hormone products? Problem is that there were way too many side affects in the negative category such as: HPTA shut-down, masculinization of females, aromatization to estrogen, and negative effects upon cholesterol.
Obviously we all loved the positive effects: increased muscle mass, decreased fat deposits, faster recovery, increased strength, and increased libido. What if we could have all of the positive effects without the negative ones? We are extremely proud of the results our newest performance design Pro-Anabol has delivered for our athletes over the past year. They train, eat and supplement to exceed mediocrity just like you do. Whether used alone or in combination with other ALR Industries products, Pro-Anabol will help both men and women reach their goals without par. The revolution continues with the Evolution of sports supplements that is ALR Industries!
Supplement Facts
PRO-Anabol
Serving Size:1 capsule
APS
%DV
Proprietary Pro-Anabol Matrix
400 mg
Bio-Kines Proprietary Bioactive Bovine Serum Extract *
2%*
Macabol Proprietary Lepidium Meyenii Extract *
MDHR Methyl-Dihydrorubrosterone *
1250%
Suggested Use:
Evolution Cutting Stack- Take 1 capsule 2 times a day starting in week 5 through week 8. This is during the 16 week Evolution Cutting Stack program. Evolution Bad Ass Mass Stack- Take 1 capsule 2 times a day starting in week 5 through week 8. This is during the Evolution Bad Ass Mass Stack program.
Keep out of reach of children. Not for use by pregnant or nursing women, or persons under the age of 21. This product is intended for use by healthy individuals only. Consult a physician before use if you have a medical condition.
SKU: ALRIANAB00600000CP
UPC: 94922757500
Distributed or manufactured from ALRI. See more
ALRI
products.
---
Questions and answers:
Asked on: February 14, 2013
Question: Does it increase your penis size


Asked on: September 24, 2013
Question: Hi! i m 28 yrs ...i m not able to gain weight..my height is 5.11 and my weight is 57kg only by the last many years...i started the gym also but didnt get any result...so can i take anabol and continue my workout or i can take without gym .....will it be effected on me or not...plz reply asap...


0

0

A: Pro Anabol is formulated and used for healthy adults without medical conditions Pro-Anabol® is a unisex (safe for both men and women) dietary supplement that mimics many of the benefits of pro-hormones. You get support for many of the benefits, without any of the harsh side effects. As mentioned above, one of the key ingredient in this formula is derived from the Maca plant (Macabol™). This ingredient supports increases in strength and lean muscle, improves recovery, decreases fat…almost as well as MDHR™…and requires no post cycle therapy. There is no estrogen increase (men appreciate this!), or any masculinizing (women REALLY appreciate this!) side affects with this product. Take your body and workouts to the next level with Pro-Anabol. Though Pro-Anabol does not state you must exercise with this products, exercise should maximize results. Vote down - Vote up