Premium 10-Stage Countertop Filter System | New Wave Enviro | Chlorine Free Living Starts Here!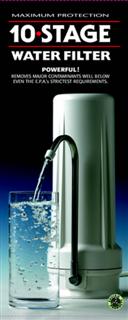 ---
Ingredients & Description
The Premium 10 Stage Water Filter contains the premier, patented, 10-Stage contaminant removing filter. It lasts three times longer than other common carbon block filters (1500 gallons versus 500 gallons). Filter Life for the cartridge is approx. 1500 gallons, which equals approx. 1 to 1 1/2 years of average use by a family of four.
The Premium 10 Stage Water Filter removes or greatly reduces the following: chlorine, cancer causing organic/chlorine compounds called trihalomethanes (THM), bad odors, e.g., hydrogen sulfide which gives water a rotten egg smell, pesticides, herbicides, PCB's, toxic heavy metals i.e., lead, cadmium, organic arsenic, asbestos, micro-organisms (protozoa and cysts) such as cryptosporidium and giardia, and dozens of other lesser known organic contaminants.
Note: It is increasingly important to use filtered water for a variety of kitchen needs besides drinking water. For example, more and more imported fruits and vegetables have been found to have giardia or cryptosporidium on them plus these hard shelled cysts can be present in your water supply. Filtered water is recommended for rice and pasta since boiling does not remove chlorine from water.
Benefits of using the Premium 10 Stage Counter Top Water Filter
Top quality patented water filter is reliable & affordable
Addresses consumers' water taste & safety needs
Tested by an independent E.P.A. approved laboratory
Long lasting, replaceable cartridge
30 day unconditional money back guarantee & one year manufacture warranty
Connects in seconds directly to your faucet, no extra plumbing or tools required. Just unscrew the aerator on your faucet and screw our diverter valve on in it's place. It's that simple!
Conversion Kits are available to mount under the sink
For Municipal Tap Water only, if you have well water please check out our Ceramic Water Filter System!
The 10 Stage Premium Water Filter has been extensively tested by Truesdail Laboratories, Inc. an EPA approved Lab which is certified to do filter testing and tests to the same EPA protocols as NSF.
The Patented (U.S. Patent No. 6,197,193 B1) 10 Stage Filter Cartridge Provides Protection Against Major Water Contaminants by:
Stage 1- Traps larger floating solids (sediments) such as RUST.
Stage 2- Bacteriostat and Heavy Metal Removal.
Stage 3- Fine Sediment Trap
Stage 4- Removes Chlorine, Bad odor / Taste and Color. Also Removes Organic Contaminants such as Pesticides, Herbicides, Arsenic, Mercury and Trihalomethanes (a Cancer-causing Organic Pollutant). Stage 4 utilizes 30 cubic inches of ultra fine mesh superior coconut shell Granulated Activated Carbon, which has long been accepted by the E.P.A. and others as the premier and most cost-effective way to improve drinking water quality.
Stage 5- Fine Sediment Trap
Stage 6- Removes Heavy Metals such as Lead, Cadmium, Chrome, Manganese.
Stage 7- Providing a buffer against Floating Sediment of any kind.
Stage 8- Second layer of G.A.C. provides extra protection against Cancer-causing Organic Pollutants.
Stage 9- Raises the waters pH, lowering acidity and increasing alkalinity, which many nutritionists recommend. This stage utilizes 3 oz. of Calcite.
Stage 10- Screens and filters outcysts and protozoa, including Giardia and Cryptosporidium and gives the filtered water a sparkling clarity.
Commonly Asked 10-Stage Water Filter Questions-
How Long Does the Replacable Filter Cartridge Last?
Each Filter cartridge should be changed after 1500 gallons. This would be approximately one year for a family of four, assuming they each drank 1/2 gal. a day and they wash fruits and vegetables in filtered water.
How do I change my water filter cartridge?
Unlike many brands, you do not have to throw the whole system away. You simply unscrew the housing, remove the old cartridge and drop in a new water filter cartridge. To make it easier to open your housing, soak the entire unit in hot water (1 gallon) and white vinegar (1 tablespoon) for about 10-15 min. Take the unit out while it is still hot and turn the housing counter-clockwise. Replacement cartridges are available from www.seacoastvitamins.com
What does the Premium 10 Stage Water Filter leave in the water?
Inert minerals such as magnesium, potassium, and chlorides and fluoride. Some people are concerned about fluoride. In these cases where a consumer wants fluoride removed, we recommend New Wave Enviro's Reverse Osmosis System.
10 Stage Common Contaminant Removal List
Organic Mercury Acrylamide Alachlor Atrazine Benezene Benzo-Pyrene Carbofuram Carbon Chlorine Tetrachloride Chloridane Dibromo-3 Chloropropane Dichloro-Benzene Dichloroethane Dichloroethylene, Methane & Propane Diandipate Dinoseb Dioxin Diquat Endothal Endrin Epichlorohydrin Ethylbenzine Glyphosate Heptachlor Hexachlorobenzine Lindane Methoxychlor Oxamyl Pentachlorophenol Picloram Polyclorinated Biphenyls Simazine Styrene Tetrachloroethylene Toluene Tirhalomethanes Toxaphene Trichloroethylene Trichlorobenzine Vinyl Chloride Radon Organic Arsenic Ethylene Dibromide Lead Cysts Cryptosporidium The 10 Stage Premium Water Filter Cartridge Also Reduces Acidity
SKU: 30000
UPC: 79651530000
Distributed or manufactured from New Wave Enviro. See more
New Wave Enviro
products.