Post Workout Anabolic Halo (Fruit Punch 2.41 lb) - MuscleTech - Mega-Dose of Muscle Morphing Compunds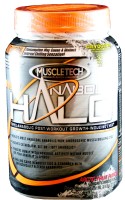 ---
Ingredients & Description
Three pharmaceutically inspired, cryogenic technologies never before seen within the realm of bodybuilding supplementation synchronize the muscle manipulating powers of ANABOLIC HALO. Featuring three SUB-ZERO Technologies - Cryogenic Thermomolecular Technology, Lyophilization and Anabolic Crystallographic Technology - ANABOLIC HALO unleashes the exclusive power of cryo-anabolic molecules. The first, Cryogenic Thermomolecular Technology, uses mechanically measured blasts of impossibly low-temperature liquid nitrogen, as cold as -320 degrees Fahrenheit, to thermomolecularly enhance a precise portion of one of the most anabolic compounds on the planet. The second pharmaceutically inspired technology, called Lyophilization, actually changes the physical state of a proprietary dose of an anti-catabolic complex in ANABOLIC HALO. Lyophilization exploits the micro-molecular process of sublimation which is so advanced, it actually forces molecules within a structure to skip matter states and go directly from a solid to a gas. The third, cryogenic process, called Anabolic Crystallographic Technology, discharges a 180-minute treatment of liquid nitrogen at -150 degrees Fahrenheit on a critical anabolic compound. The resulting molecular structure is unlike anything ever witnessed in bodybuilding!
Suggested Use:
Anabolic Halo is an extremely powerful anabolic product. After your workout, start off by consuming 1 serving (1 heaping scoop) mixed in 4 oz. of cold water. As you develop respect for, and truly comprehend the power of Anabolic Halo, increase to 3 servings
Supplement Facts:
Serving Size 27 grams (1 scoop) Servings Per Container 40 Energy 80 Fat Calories 0g Total Carbohydrates 19g 6% Sugars 9g † Thiamin(as Thiamin Mononitrate) .5mg 33% Riboflavin(as Vitamin B2) .57mg 33% Niacin .33mg 2% Vitamin B6(as Pyridoxine Hydrochloride) .64mg 30% Vitamin B12(as Cyanocobalamin) 20mcg 333% Iron .1mg 1% Sodium 120mg 5% Anabolic Halo Proprietary Blend 24,832mg (Powered By Patent-Pending Jet Pulverizing, Hammer Milling, Lyophilization Cryogenic Technologies) Supercritical Growth Factor † Dextrose Monohydrate Maltodextrin Creatine Monohydrate Creatine Malate Creatine Taurinate L-Lysine HCL N-Acetyl L-Valine L-Valine Alpha-Ketoglutarate L-Valine Ethyl Ester HCL L-Isoleucine Pyroglutamate L-Isoleucine Ethyl Ester HCL N-Acetyl L-Phenylalanine L-Threonine L-Histidine L-Histidine Alpha-Ketoglutarate L-Methionine Pure Anabolic ICE Crystal † L-Leucine Evodia Powder (As Tetradium Rutacarpum) Big Catuaba Powder (As Trichillia Catigua) L-Leucine Isovaleric Acid N-Acetyl L-Leucine L-Leucine Ketoisocaproate L-Leucine Pyroglutamate Alpha-Amino L-Butyrate Alpha-Hydroxyisocaproic Acid (HICA) 11-Hydroxy Yohimbine (8 Mcg) FREE-TEST Cold Burn † L-Carnitine Fumarate Coleus Forskohlii Extract (Root) Standardized For 10% Forskolin And Supplying Isoforskolin And 7-Deacetylforskolin Vitus Vinifera Extract (Skin) Standardized For 20% Proanthocyanidins 18 Beta Glycyrrhetinic Acid Acetyl L-Carnitine HCL Acetyl L-Carnitine L-Arginine HCL GH Sub-Zero † Wasabia Japonica Powder Yohimbine Extract (As Pausinystalia Yohimbe)(Bark) 2mg Rubus Idaeus Powder L-Aspartic Acid Beta Alanine L-Glutamine Muira Puama Powder Maca Powder (As Lepidium Meyenii) Sandalwood Powder Bacopa Monniera Extract (Aerial Parts) Standardized For 20% Bacosides Deanol Bitartrate Tylophora Indica Extract (Leaf) Standardized For 0.1% Alkaloids Quercetin Dihydrate Cassia Extract (Cinnamomum Cassia)(Bark) Standardized For 40% Polyphenols Growth Isotherm † Flos Chrysanthemi Extract (As Chrysanthemum Morifolium)(Flower) Standardized For Luteolin And Apigenin N-Acetyl-5-Methoxytryptamine L-Ornithine L-Ornithine Eicosanoate Geum Japonicum Extract (Whole Plant) Standardized For 2% Triterpene Rubus Coreanus Powder Fadogia Agrestis Powder Propolis Extract (From Bee Pollen) Mistletoe Extract (As Viscum Album)(Stem) Idebenone Alpha Glycerophosphocholine Cis-9, 10-Octadecenoamide Artichoke Flavonoids (As Cynara Scolymus L.)(Root) Standardized For 5% Icariin Muscle Hail Storm † Adenosine 5' Triphosphate Disodium Salt (ATP) Adenosine 5' Monophosphate Free Acid (AMP) Cytidine 5' Monophosphate Free Acid (CMP) Guanosine 5' Monophosphate Disodium Salt (GMP) High Performance ATF-4 Insulin Coolant † Fenugreek Extract (As Trigonella Foenum-Graecum)(Seed) Standardized For 5% Trigonelline And 40% Galactomannan D-Mannose * % Daily Value is based on a 2,000 calorie diet
Other Ingredients:
Natural And Artificial Flavor, Citric Acid, Sodium Citrate, Antifoam, Aspartame, Acesulfame Potassium, Blue Color Flecks (FD&C Blue No. 1, Gum Arabic), FD&C Blue #2 Lake, FD&C Red #40
SKU: MSCTANAB2.41PUNCPW
UPC: 631656700633
Distributed or manufactured from MuscleTech. See more
MuscleTech
products.