Portuguese Coarse Sea Salt (7.3 oz) | Fun Fresh Foods | Real Salt | Minerals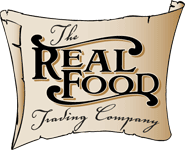 ---
Ingredients & Description
Who ever thought it a good idea to industrialize, process, "purify," and in other words, alter something as simple as salt was not the cleverest of fellows. By over processing salt, "refining" it some may say, precious trace minerals and other nutrients are lost. FunFresh Foods is dedicated to promoting natural raw foods from this wonderful planet of ours.
Portuguese Sal Marinho Mineral Salts are hand-harvested from the salt pans of Algarve; an ancient process which has served the native peoples well for hundreds if not thousands of years. The practice involves evaporating seawater until you are left with super-concentrated. Next, the salt is drawn to the sides of the pans with wooden rakes which allows the many trace minerals to remain intact. These vital minerals include magnesium, iron, calcium, and potassium- precious minerals which normally would fill the void industrialized modified salt creates.
These coarse grind crystals yield a broad, plate-shaped surface area, blending flavors and minerals in an almost musical medley of flavor for the palate. A must-have for the colorful culinary cook in your home. A truly superior salt with smooth taste, light texture, and natural hue.
Nutrition Facts 1/4 tsp. (1.25 g)
0 Calories - 0 Calories from Fat
Total Fat: 0 - Saturated Fat: 0 - Cholesterol: 0
Sodium: 430 mg (18% DV) - Total Carbohydrate: 0
0 Protein - 0 Iron - 0 Iodine