PomeZotic, Grape, Goji, Acai, and Mangosteen - Jarrow Formulas - Healthy Aging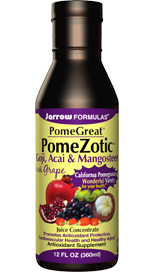 ---
Ingredients & Description
PomeGreat™ PomeZotic™, w/ Grape, Goji, Acai, and Mangosteen (12 oz)
Jarrow FORMULAS® PomeGreat™ PomeZotic™ offers a blend of "superfruits" that is exceptionally high in phytonutrients and antioxidants. The combination of pomegranate, grape, and the exotic fruits of goji and acai berries, along with mangosteen, packs a potent antioxidant punch, delivering 2000 ORAC (Oxygen Radical Absorbance Capacity) units per serving.
• Supports cardiovascular health*
• Promotes antioxidant protection*
• Promotes normal cell function and proliferation*
• Promotes vascular and capillary integrity*
Grape is another rich source of antioxidant polyphenols. Goji, acai berries and mangosteen have also been shown in scientific studies to be powerful antioxidant-rich fruits that promote health and healthy aging.*
Jarrow FORMULAS® PomeGreat™ PomeZotic™:
Pomegranate has long been recognized as a fruit with many health benefits.* One of the primary reasons for this is its high antioxidant activity, which comes from the polyphenolic compounds ellagic acid, gallic acid, anthocyanins, and tannins, including punicalagin, and other powerful phytonutrients.*
WARNING: Pomegranate juice, like grapefruit juice, may interact with a number of medications. People on any medication, especially on anti-hypertensive or cholesterol lowering medications, or people who are allergic to many plants, should consult their physician before taking pomegranate juice or any pomegranate products.Refrigerate after opening. To extend shelf life, this product would be best kept refrigerated at all times. Use within 60 days after opening.
Take 1 to 2 tablespoons per day. May be mixed in cold water, juice, tea, or other beverages of choice.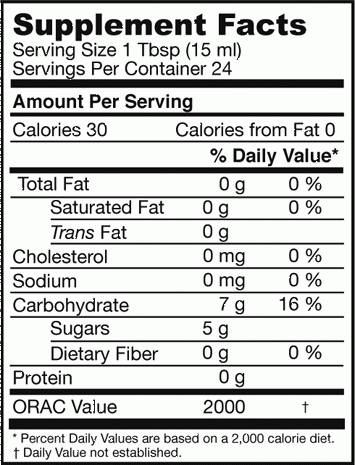 Promotes Antioxidant Protection, Cardiovascular Health and Healthy Aging*
SKU: POMEX
UPC: 790011200307
Distributed or manufactured from Jarrow Formulas. See more
Jarrow Formulas
products.