Pomegranate with Black Currant & Red Grape - Jarrow Formulas -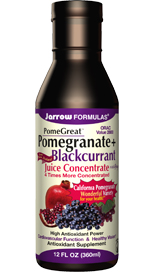 ---
Ingredients & Description
Jarrow FORMULAS® PomeGreat Pomegranate with Black Currant & Red Grape Concentrate is 4 times more concentrated than regular juice. The combination of these potent fruits offers exceptionally high levels of phytonutrients with a guaranteed high ORAC value (Oxygen Radical Absorbance Capacity) of 2800 per serving.
Jarrow FORMULAS® PomeGreat Pomegranate with Black Currant & Red Grape Juice:
Promotes antioxidant protection*
Promotes eye health and reduces eye fatigue*
Supports cardiovascular health*
New Zealand Blackcurrant is one of the most antioxidant-rich berries known. Its capacity in reducing the oxidative damage caused by radicals and reactive exygen species, such as hydrogen peroxide, is even higher than that of blueberry. Blackcurrants unique protective effects on eye health, especially on the reduction of eye fatigue associated with chronic exposure to terminal (e.g., computer) screens are mainly due to its high concentration of the unique polyphenols delphinidinin-3-rutinoside and cyanidin-3-rutinoside.* New Zealand Blackcurrant contains 4 times more polyphenols than European blackcurrant and is free of pesticides.
Pomegranate has been shown in scientific studies to benefit cardiovascular function, healthy cell replication, and antioxidation protection.* These health benefits are contributed by phytochemical compounds such as ellagic acid, gallic acid, anthocyanins, and tannins, including punicalagin, and other powerful phytonutrients.*
Refrigerate after opening. To extend shelf life, this product would be best kept refrigerated at all times. Use within 60 days after opening.
Take 1 to 2 tablespoons per day. May be mixed in cold water, juice, tea, or other beverages of choice.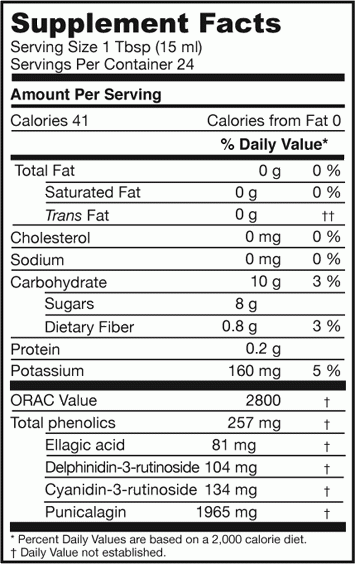 High Antioxidant Power* Cardiovascular Function & Healthy Vision*
WARNING: Pomegranate juice, like grapefruit juice, may interact with a number of medications. People on any medication, especially on anti-hypertensive or cholesterol lowering medications, or people who are allergic to many plants, should consult their physician before taking pomegranate juice or any pomegranate products.
SKU: POMBLK
UPC: 790011200321
Distributed or manufactured from Jarrow Formulas. See more
Jarrow Formulas
products.