PectaSol Detox Complete (60 v-caps) - EcoNugenics - Stage 2 Support for Enhanced Detoxification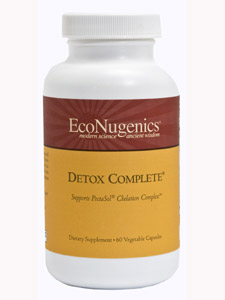 ---
Ingredients & Description
Detox Complete is the Phase II revolutionary combination of vitamins, nutrients, and herbs designed to:
Provide key nutrients to support the detoxification activities of the liver and other accessory organs.
Encourages the safe and natural removal of toxic metals from the body.
To be taken in conjunction with PectaSol® Chelation Complex, after initial 1-6 month period of PectaSol Chelation Complex alone.
Detox Complete is the Phase II product in EcoNugenics patent protected integrative detoxification system. It is designed as a complimentary product that can be introduced after initiating gentle systemic and intestinal chelation with PectaSol Chelation Complex (PCC). Introduced after one to six months of gentle chelation with PCC, the nutrients in Detox Complete™ in combination with PCC help in removing heavy metals from the tissues and body without side effects.
Heavy Metal Toxicity
Heavy metals have been shown to disrupt the normal functioning systems in the body including the nervous, immune and cardiovascular systems. They exert toxic effects by binding to sulfur containing groups in proteins and disrupting protein function. In addition, heavy metals are strong oxidizers and may lead to the production of free radicals.
Unique Formula
Heavy metal detoxification is supported by providing the body with antioxidants and compounds that contain sulfur groups. Although Detox Complete offers detoxification support, the formula is far more than a mixture of antioxidants. The herbs that form the proprietary blend are selected for specific tissue affinities and combined in concert with the principles of Tibetan medicine, Traditional Chinese medicine and Western Naturopathic herbology. Synergy among the ingredients and the proprietary blend of herbs add to the benefits of Detox Complete and make it truly unique. Case report studies using PectaSol Chelation Complex and Detox Complete have shown its effectiveness.
Garlic is rich in sulfur containing compounds. It has been shown to prevent the tissue accumulation of organic mercury and cadmium and increase the excretion of heavy metals. Both concurrent and post-consumption of garlic lowers lead tissue levels.
Cilantro binds both inorganic and organic forms of mercury. There is evidence that post consumption with cilantro may reduce mercury deposits in the body. Cilantro has been shown to be protective against lead poisoning.
Sulfur containing amino acids and compounds GSH (glutathione), MSM (methylsulfonylmethane), cysteine, NAC (N-acetyl cysteine), and ALA (alphalipoic acid) are thiol containing compounds with important roles in detoxification. These sulfur containing compounds are known to chelate heavy metals and quench free radicals.
Selenium- Mercury and cadmium toxicity is reduced by selenium. The reduction in mercury toxicity is due to formation of a strong molecular bonds between selenium and mercury.
Suggested Use:
2 capsules twice daily with food or as directed by your health care professional. For long term maintenance take 1 capsule twice daily with food.
Detox Complete™ and PectaSol® Chelation Complex™ are an integral parts of seasonal detoxification protocols.
Advisory Notes on Usage: Detox Complete™ is designed to be used with PectaSol® Chelation Complex™ (PCC). If detox symptoms occur use PCC alone for an additional period of time (one to six months) and then reintroduce Detox Complete™ at a smaller serving size.
Supplement Facts
Serving Size 2 capsules
Servings per container 30
Amount Per Serving % Daily Value †
Vitamin C (as calcium ascorbate) 167mg 278%
Zinc (as monomethionine, orotate, picolinate) 10mg 67%
Selenium (as L-Selenomethionine) 67mcg 96%
Detox Complete Proprietary Blend: 231mg **
Chinese smilax stem (smilax glabra), astragalus root extract (Astragalus membranaceus), Chinese salvia root (Salvia miltiorrhizae), Oregon grape root extract (Mahonia aquifolium), European goldenrod flower and leaf extract (Solidago virgaurea), dandelion leaf (Taraxacum mongolicum), grass-leaf sweetflag stem (Acorus gramineus).
Garlic bulb (allium sativum) aged 200mg **
Cysteine (as L-Cysteine HCl) 167mg **
MSM (as methylsulfonylmethane) 167mg **
N-Acetyl Cysteine 167mg **
Cilantro leaf extract 167mg **
Alpha-Lipoic Acid 80mg **
Carnitine (as L-Caritine fumarate) 67mg **
Milk thistle seed extract ( 80% silymarin) 40mg **
Gingko leaf extract (standardized 24%) total glycosides 13mg **
L-Glutathione (reduced) 10mg **
†Percent daily values (%DV) are based on a 2,000-calorie diet.
** Daily Value not established.
Other Ingredients:
Vegetable capsules (Natural vegetable cellulose, water), microcrystalline cellulose, magnesium stearate.
Modified Citrus Pectin and Alginates are all-natural products that work in a very unique way to both chelate and eliminate heavy metals from the body.
SKU: 6360
UPC: 892985000072
Distributed or manufactured from Econugenics. See more
Econugenics
products.