Oxygen Supreme II (2 oz) -HealthForce Nutritionals- Highest Levels of Dissolved Oxygen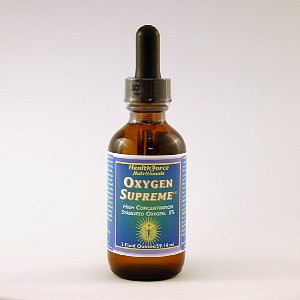 ---
Ingredients & Description
HealthForce Oxygen SupremeÃÂ provides by far the most oxygen per dollar spent of any stabilized oxygen supplement! Without a constant large supply of oxygen, the cells in our bodies cannot function properly. Pollution, constant exposure to other environmental toxins, emotional stress, cooked foods, saturated fats, lack of exercise, lack of deep breathing, being indoors, etc. all rob oxygen from our bodies. Yet, ironically, they increase the need for oxygen's detoxifying power.*
HealthForce OXYGEN SUPREMEÃÂ and OXYGEN SUPREMEÃÂ II have the highest levels of dissolved oxygen in them. It also contains dissolved ozone! Oxygen SupremeÃÂ contains 5% dissolved oxygen and Oxygen SupremeÃÂ II contains 11% dissolved oxygen.
Non-Toxic: Also, Oxygen SupremeÃÂ/Oxygen SupremeÃÂ II have absolutely no toxicity (externally or internally). Many people use hydrogen peroxide to get the benefits of having more oxygen in their systems. However, using hydrogen peroxide can and often does have undesirable side effects. HealthForce does not recommend the use of Hydrogen Peroxide. If you choose to use it, do so with the assistance of a qualified health care professional.*
Best Value: We know that how effective a product is, and how affordable it is, can be a contributing nutritional factor in the difference between energy and lethargy, sickness and health, and even life and death! Therefore, we offer Oxygen SupremeÃÂ/Oxygen SupremeÃÂ II, at the lowest price possible (offering you a tremendously better value over any other product we have come across).
SKU: OX2
UPC: 650786000079
Distributed or manufactured from HealthForce Nutritionals. See more
HealthForce Nutritionals
products.
---
Questions and answers:
Asked on: February 25, 2013
Question: How long would that size last? Are you sure there are no side effects? Have CFIDS and need help. Do you ship to Canada?


0

0

A:

The ingredients in this product are purified water, oxygen, sodium chloride (salt), trace minerals. SUGGESTED USE: 40-80 drops per day. 80 drops = just over 3/4 teaspoon. Bottle contains approximately 2400 drops and will last 30 days at 80 drops per day. Drops may be divided up to mask the slight flavor, or consumed all at once. Can be mixed with non-acidic fluids (ideally, fresh, raw vegetable juices or purified water). Do not mix with acidic fluids (such as acidic fruit juices or vinegars) and avoid contact with metal (the oxygen content may be diminished). Greater or lesser amounts can be consumed as your nutritional situation dictates. Intensive USE: 125-600 drops (1.25 teaspoons - 2 tablespoons) or more per day. Non-toxic. If you have any additional questions or concerns with how this product will effect your CFIDS, please consult with your physician.

Asked on: August 29, 2013
Question: Is it the exact same product as Oxygen Force? (from Never an Outbreak?)


Asked on: October 2, 2013
Question: I am on oxygen for 15 hours a day using a machine that filters the air but i still get swollen and very painful feet ankles and calves will this product interfere in any way and be too much or will it enhance and possibly help


0

0

A: There are no warnings against using this product if you have any health condition however if you are still concerned you may want to run it by your physician. Stabilized Oxygen may help provide one\'s cells with the oxygen it may be lacking. This product is all natural and non-toxic. Vote down - Vote up