ORME Silver - Ambaya Gold - All Natural Support for Healthy Immune Function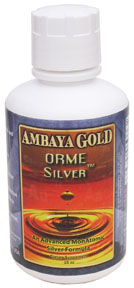 ---
Ingredients & Description
Blending an Activated Fulvic base with advanced Silver properties and Monatomic elements, Ambaya Gold's unique, high-spin ORME Silver formula is a natural addition to help boost your immune system.
ORME Silver is absolutely unique in the use of ORME Technology to create a unique Silver supplement with the smallest particle size available today. The formula is highly bio-available and is quickly absorbed and used by the body via Ambaya Gold's proprietary delivery system – ORME Energy Technology.
Suggested Use (ORME Silver): 1-2 teaspoon, once or twice daily. Children: 1 teaspoon daily.
Benefits may include:
Immune support boost
Helps support eye, nose, throat, ear and lung health
Non-toxic, safe and easy to use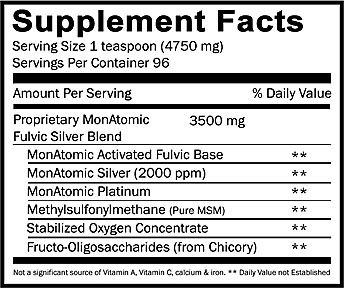 Other ingredients: purified bio-photon restructured water, plant-based enzyme phytonutrients, and 83 minerals, elements and amino acids - antimony, barium, beryllium, bismuth, boron, bromine, cadmium, calcium carbonate, carbon, cerium, cesium, chloride, chromium, cobalt, copper, dysprosium, erbium, europium, fluorine, gadolinium, gallium, germanium, gold, hafnium, holmium, indium, iodine, iridium, iron, lanthanum, lithium, lutetium, magnesium, manganese, molybdenum, neodymium, nickel, niobium, osmium, oxygen, palladium, phosphorous, platinum, monatomic potassium, praseodymium, rhenium, rhodium, rubidium, ruthenium, samarium, scandium, selenium, silicon, silver, sodium, strontium, sulfur, tantalum, tellurium, terbium, thorium, thulium, tin, titanium, tungsten, vanadium, ytterbium, yttrium, zinc, zirconium, alanine, glutamic acid, glycine, histidine, isoleucine, leucine, methionine, phenylalinine, serinine, threonine, tryptophan, valine.
SKU: 49945
UPC: 83765449945
Distributed or manufactured from Ambaya Gold. See more
Ambaya Gold
products.