Designed to restore balance and nurture genuine wellness, our all-in-one organic multivitamin with its Synergized herbs is like nothing else youve ever tried before. 30 servings.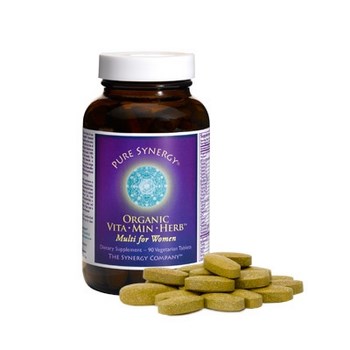 Choose different size or options :
---
Ingredients & Description
Organic Vita Min Herb for Women stands head over heals apart from all other multivitamins on the market today. A combination of traditional herbal wisdom and the best of modern science, The Synergy Company has thoughtfully selected each fine ingredient from nature to support your most vital organs and systems-energy, digestion, brain, heart, and immune system.
All of Synergy's vitamins and minerals in Organic Vita Min Herb for Women are "grown" as a whole food in an exclusive process, not manufactured synthetically in a lab. And even better, we use a USDA-accredited third party agency to certify that all the essential vitamins and minerals are grown in 100% accordance with the protocols of organic food, so you can be sure that you are feeding your body completely pure nutrients, not chemicals.
SUGGESTED USE: 3 to 6 tablets per day (2-3 in morning, 1-3 in afternoon), with or without meals.
90 count bottle with its 3/day serving size is the ideal choice for those seeking a more economical option, a smaller daily portion, or for those acclimating to our optimal 6/day serving
Supplement Facts
Organic Vita Min Herb for Women
Serving Size: 6 tablets
APS
%DV
Vitamin A**(95% as beta-carotene)
10,000 IU
200
Vitamin C**
250 mg
400
Vitamin D3**
2000 IU
500
Vitamin E**
200 IU
650
Vitamin K
K1* 140 mcg; K2 20 mcg
160 mcg
200
Thiamin (B1)**
20 mg
1,350
Riboflavin (B2)**
20 mg
1,200
Niacinamide**
50 mg
250
Vitamin B6**
30 mg
1,500
Folate*
800 mcg
200
Vitamin B12*
200 mcg
3,350
Biotin*
600 mcg
200
Pantothenic Acid**
50 mg
500
Calcium**
50 mg
6
Iodine**
225 mcg
150
Magnesium**
20 mg
6
Zinc**
15 mg
100
Selenium*
105 mcg
150
Copper**
1 mg
50
Manganese**
5 mg
250
Chromium (GTF)*
240 mcg
200
Molybdenum*
112.5 mcg
150
Organically Grown Nutrients
Choline
15 mg
Inositol
15 mg
PABA
5 mg
Boron
0.5 mg
Vanadium
50 mcg
Synergized Organic Herbal Extracts
2,700 mg
Women's Energy & Hormonal Balance
Chaste Tree Berry* (200 mg), Shatavari Root* (150 mg), Wild Yam Root* (100 mg)
Raspberry Leaf* (100 mg), Ashwagandha Root* (100 mg), Eleuthero Root* (75 mg), Damiana Leaf* (50 mg), Licorice Root* (50 mg)
825 mg
Women's Heart Health
Motherwort Aerial* (100 mg), Bioflavonoids* (80 mg), Sacred Lotus Seed* (50 mg)
Hawthorn Leaf and Flower* (50 mg)
280 mg
Women's Immune Protection
Astragalus Root* (120 mg), Eleuthero Root* (75 mg), Holy Basil Leaf* (50 mg)
Turmeric (Curcumin) Rhizome (25 mg)
270 mg
Women's Digestive Ease
Gum Acacia* (150 mg), Triphala Fruits* (50 mg): Amla*, Terminalia bellerica (Bibhitake)*
Terminalia chebula (Haritake)*; Ginger Rhizome* (25 mg), Pippali (Piper longum) Fruit* (10 mg)
Tangerine Peel* (10 mg), Black Pepper Fruit* (5 mg)
250 mg
Women's Mind & Brain Support
Bacopa monnieri (Brahmi) Leaf* (100 mg), Gotu Kola Aerial* (50 mg)
Turmeric (Curcumin) Rhizome (25 mg)
175 mg
Women's Flower & Spice Essences
Barley Grass*, Fennel Seed*, Calendula Flower*, Lavender Flower*
Passion Flower*, St. John's Flower*, Chamomile Flower*
Rose Flower*, Saffron*, Cardamom Seed*
Chrysanthemum Flower, Honeysuckle Flower*, Rosemary Leaf*, Clove Bud*, Sage Leaf*
900 mg
* Certified organic
** Made with organic ingredients
Daily Value not established
Other Ingredients:
Vegetable cellulose (tablet coating).
Contains: Organic fermented soy.
Gluten, dairy, additive and GMO free
SKU: 1VMHW90
UPC: 852971004125
Distributed or manufactured from The Synergy Company. See more
The Synergy Company
products.
---
*Not intended to diagnose or treat diseases or ailments, and is not reviewed by the FDA.
Uses & Indications.
Womens Immune Protection
Womens Digestive Ease
Womens Heart Care
Womens Mind And Brain Support
Womens Energy And Hormone Balance
Ailments & Concerns.
---
Questions and answers:
Asked on: July 27, 2013
Question: I have an immune disorder with pain arthritis, do you think this vitamin would help me? I currently don't take vitamins


0

0

A: Though this product provides great overall support for the health of women, I am not aware of its ability to help with immune disorders and arthritis, though it does have immune boosting ingredients in it. We do have some other products you may want to look into. Here is one of them called Medizym, which is formulated to boost the body's immune system and help with joint and tissue health. http://www.seacoast.com/medizym/naturally-vitamins/200-tabs/p2433 Vote down - Vote up

Asked on: September 7, 2013
Question: Does this product help in hair growth and are there any side effects?Raga


0

0

A: This vitamin does contain biotin an ingredinet known to support hair health and growth however, overall it is not formulated specifically for hair growth. Here are a few supplements that are. http://www.seacoast.com/hair/natural-factors/skin-nails-120-vcaps/p2782 http://www.seacoast.com/maxi-hair/country-life/90-tablet/p8443 http://www.seacoast.com/topic.php?health=hair+skin+nails Vote down - Vote up

Asked on: March 15, 2014
Question: Is this product safe for conception and fertility (women who try to conceive)?


0

0

A: The Vita-Min-Herb for women is an organic formula which enhances your immune system and gives you energy along with brain,heart and digestive health. It also has herbs for hormonal balance. This product is also GMO free. As with any supplement we suggest that you consult with your physician to see if this product is right for you. Vote down - Vote up