Organic Detox Salt Scrub - SoCal Cleanse - Detoxify, Exfoliate, & Invigorate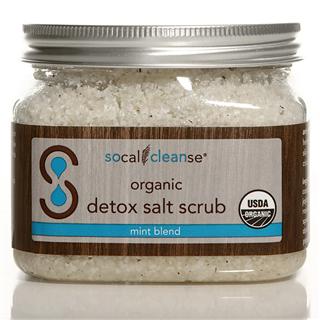 ---
Ingredients & Description
Our eco-luxury organic detox salt scrub combines salts from the Dead Sea and the Pacific Ocean, certified organic oils, and organic detoxifying herbs and seaweeds to create a system that thoroughly exfoliates, detoxifies, and replenishes in one easy step transforming your skin from dry and flaky to soft and supple. This unparalleled product rejuvenates your body, awakens your spirit and calms your mind for complete holistic wellness.
This one, simple to use product combines detoxifying, smoothing, hydrating, and replenishing in one easy step!
Our Dead Sea Salts are harvested from the southern end of the Dead Sea where the mineral content is the highest. Your skin will absorb these essential minerals to increase your levels of potassium, magnesium, calcium, zinc, sodium, iodine, bromide, and sulfur and gently bring your body back into balance.
The Pacific Solar Sea Salts are harvested locally and dried in small batches in the Southern California sun. Your skin's outer and inner layers will be brought into balance and your aches and pains from your busy life will fade.
This unique blend of salts also help detoxify the body, reduce the appearance of cellulite, soothe the skin from any irritation and aid in healing skin conditions including acne, eczema, psoriasis, and rosacea.
Rounding out this amazing product is a blend of organic seaweeds and organic detoxifying herbs to gently, yet effectively, pull out toxins from the body while nourising it from the outside in. Organic essential oils provide a wonderful aromatherapy experience turning your bathroom into a spa destination and our Super Seven secret oil blend heals, moisturizes, calms, and balances while leaving the skin protected!
Some of the amazing benefits you can see with this product include:
Removal of your daily toxin buildup through your body's largest organ.
Soft, supple and replenished skin
Improved circulation
Increased essential mineral sin your body
Balanced inner and outer layers of the skin
Aromatherapy through organic essential oils
Reduction in the appearance of cellulite
Help in healing skin conditions like acne, eczema, and psoriasis
Relief for sore muscles and pain your joints, neck and shoulders
<
Certified Organic Ingredients: Dead Sea Salts, Pacific Solar Sea Salts, Coconut Oil (unrefined), Sunflower Oil, Evening Primrose Oil, Rosehip Oil, Safflower Oil, Extra Virgin Olive Oil, JoJoba Oil, Milk Thistle, Dandelion root, Dulse, Nori, Peppermint, Lavender, Lemon Peel, Orange Peel, Peppermint Essential Oil, Spearmint Essential Oil, Eucalyptus Essential Oil, Lavender Essential Oil, Lemon Essential Oil, Lime Essential Oil, Sweet Orange Essential Oil, Vitamin E
SKU: 205_0081
UPC: 896547000081
Distributed or manufactured from SoCal Cleanse. See more
SoCal Cleanse
products.