Omega Essential Balance - Jarrow Formulas - Return to Balance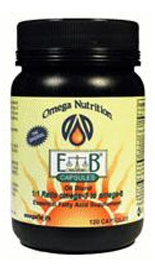 ---
Ingredients & Description
Essential Balance® of omega-3 and omega-6 essential fatty acids For thousands of years, the human diet was made up of a natural selection of foods providing a 1:1 balance of omega-3-omega-6 essential fatty acids (EFAs). Offering the same EFA ratio found in the human brain, Essential Balance® 3-6-9 is a great tasting nutritious blend of organic oils that meets the everyday needs of both women and men. Make Essential Balance® 3-6-9 a regular part of your routine. The average diet in North America is widely considered to be out of balance, acutely deficient in omega-3 EFA while disproportionately abundant in consumption of omega-6 EFAs. Research has shown that deteriorating health may result from a long-term imbalance or a dietary deficiency of either EFA. EB® 3-6-9 Capsules (1000mg) offer the same 1:1 balanced EFA ratio as Essential Balance® 3-6-9. Since refrigeration is not necessary, EB® 3-6-9 Capsules are convenient for home, traveling, camping or the office. EB® 3-6-9 Capsules Typical Analysis / 3 capsules Omega 3 Fatty acids 900 mg Omega 6 Fatty Acids 900 mg Omega 9 Fatty Acids 900 mg
1-3 capsules up to 3 times daily or as directed by your health care provider.

Rich in vital and essential Omega-3 fatty acids, Barleans Omega Swirl flax and fish oil supplements are the freshest, best tasting and most nutritious, naturally. Barleans Omega Swirl is the perfect solution for the whole family!
SKU: EBCAP
UPC: 55358114800
Distributed or manufactured from Jarrow Formulas. See more
Jarrow Formulas
products.