Omega-3 Effervescent - Nordic Naturals - Drink Your Omega's!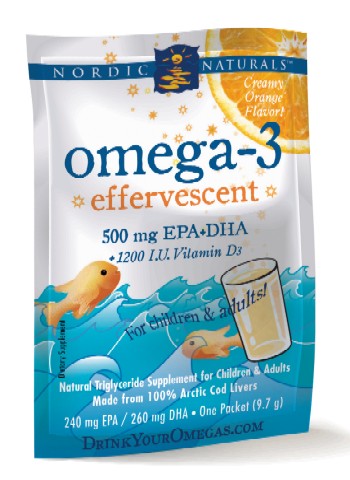 ---
Ingredients & Description
With this revolutionary delivery system, you wonÃÃÂÂÃÂt even know youÃÃÂÂÃÂre taking cod liver oil. A water-soluble drink mix rich in the omega-3s, EPA and DHA , Nordic Naturals Omega-3 Effervescent is clean on the palate and has a fruity orange taste. Now adults and kids alike can get all the amazing health benefits of omega-3s and vitamin D3ÃÃÂÂÃÂlike heart, brain, joint, and bone supportÃÃÂÂÃÂ without any hint of fish.** ThereÃÃÂÂÃÂs no oily feel, no soft gel to swallow, and no gelatinÃÃÂÂÃÂjust the same industry-leading purity and freshness you can expect from all Nordic Naturals products. And the convenient single-serving packets let you drink your omegas any time and anywhere you want!
Omega-3 Effervescent features:
500 mg omega-3s (EPA+DHA )
1200 I.U. vitamin D3
Dosage fit for children & adults
Stevia-sweetened creamy orange flavor
No oily feel, texture, or taste
No fishy smell, taste, or burps
No soft gel to swallow
No gelatin
Benefits may include:
Supports cardiovascular health and the bodyÃÃÂÂÃÂs natural anti-inflammatory response
Promotes brain, eye, and nervous system health
Supports fat metabolism and body composition
Promotes healthy immunity and positive mood
Suggested Use: One packet dissolved in water daily, or as directed by your health care professional or pharmacist.
Supplement Facts
Omega-3 Effervescent
Serving Size:1 Packet (9.7 g)
APS
%DV
Calories
39
Calories from Fat
22
Total Fat
2.4 g
4%*
Saturated Fat
0 g
Trans Fat
0 g
Sodium
209 mg
0.09
Total Carbohydrates
3.0 g
0.01
Vitamin A
100 - 300 IU
4 - 12 %
Vitamin D3 (cholecalciferol)
1200 IU
3
Omega-3s Weight.
EPA (Eicosapentaenoic Acid)
240 mg
DHA (Docosahexaenoic Acid)
260 mg
Total Omega-3s
670 mg
* Percent Daily Values are based on a 2,000 calorie diet.
ÃÃÂÂÃÂ Daily Value not established. . Natural Triglycerides
1 Daily Value (DV) for children under 4 years of age.
2 Daily Value (DV) for adults and children over 4 years of age.
Less than 5 mg of Cholesterol per serving.
Other Ingredients: cod liver oil, citric acid, anhydrous dextrose, sodium bicarbonate, natural flavors, sodium carbonate, stevia leaf extract, annatto powder.
Allergen statement: Contains natural flavorings that may have been manufactured on the same processing line as products containing milk, egg, peanut, tree nut, fish, shellfish, wheat and/or soy derivatives.
SKU: 11902
UPC: 11902
Distributed or manufactured from Nordic Naturals. See more
Nordic Naturals
products.