Oceans 3 - Healthy Hormone - Garden of Life - Ashwagandha, Amla Berry & Wild Hops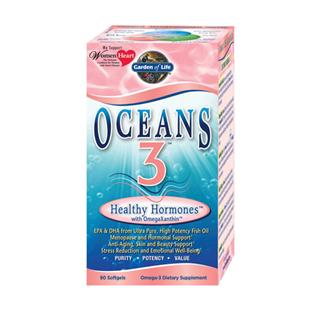 ---
Ingredients & Description
Any woman dealing with changing hormones either on a monthly basis or as time marches on, doesn't need to be told about the associated issues. Oceans 3 Healthy Hormones supports hormonal and emotional health for women of all ages by providing all the benefits of a high potency Omega-3 supplement plus an amplified range of targeted benefits unmatched by ordinary Omega-3 formulations.
Why is Healthy Hormones different from other supplements?
Healthy Hormones contains a trio of clinically studied botanicals – Ashwagandha, Amla berry and Lifenol® wild hops – noted for their positive effects on the hormonal and emotional health of women of all ages.
1. Lifenol, a patented wild hops extract, has been clinically shown to reduce the frequency of hot flashes.
2. The Ashwagandha in Healthy Hormones addresses the direct issue of stress. Clinical studies indicate that Ashwagandha promotes a positive mind and mood, and a calm and relaxed state of mind. This in turn, helps inhibit stress-related overeating and helps control carb cravings and the associated weight gain.
3. Amla berry supports collagen biosynthesis, a vital factor in maintaining healthy-looking skin.
Going beyond hormonal support, Healthy Hormones also contains OmegaXanthin. A synergistic complex of three health-promoting compounds from the ocean, OmegaXanthin provides all the benefits of a high potency Omega-3 supplement plus two ocean-based antioxidants for an amplified range of benefits unmatched by ordinary Omega-3 formulations. The combination of highly purified Omega-3 fatty acids plus the added benefits of fucoxanthin and astaxanthin, both powerful antioxidants make this a truly unique formula. As an antioxidant, astaxanthin benefits cardiovascular health, supports the body's natural response to inflammation, immune system health, eye health and even supports healthy skin, bones and joints. Fucoxanthin is a dynamic antioxidant carotenoid from brown seaweed, noted for its ability to fight free radicals that can cause damage at the cellular level, exerting its protective effects directly in fat cells.
Menopause and Hormonal Performance
Alleviate symptoms associated with menopause
Reduce the frequency of hot flashes
Reduce stress and promotes emotional well-being
Promoting a positive mind and mood
Promoting restful sleep
Boosting energy and reducing fatigue
Promoting a calm and relaxed state of mind
Helping to control stress related appetite and carb cravings
Inhibiting stress-related overeating and weight gain
Skin Protection, Health and Beauty
Supports collagen biosynthesis, a vital factor in maintaining healthy-looking skin
Protecting against the breakdown of skin collagen
Maintaining skin elasticity and tone
Helping to protect skin against ultraviolet-induced (UV) damage
Extraordinary Health
Supports anti-aging by promoting antioxidant cellular health
Supporting eye health and normal vision
Supporting the body's natural anti-inflammatory response
Promoting mental clarity, stamina, and concentration
Helping to maintain already healthy triglyceride and cholesterol levels
Help with maintaining already healthy c-reactive protein levels
Suggested Use: Adults take 3 softgels daily. Best taken with meals and at least 8 ounces of water. Not intended for children. Softgels are enhanced with a light, natural strawberry flavor – enjoy! To preserve freshness, immediately refrigerate after opening.
Advanced Usage: Increase gradually to 3 softgels three times daily (9 softgels per day).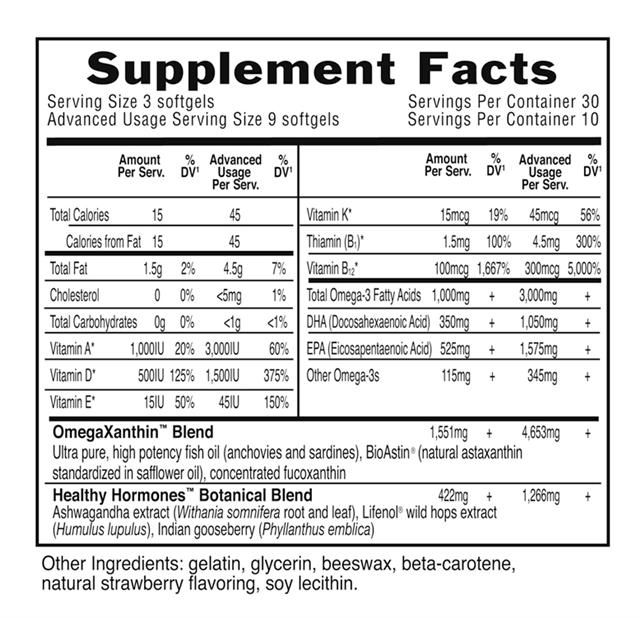 Other Ingredients: gelatin, glycerin, beeswax, beta-carotene, natural strawberry flavoring, soy lecithin.
SKU: 101519
UPC: 658010113861
Distributed or manufactured from Garden of Life. See more
Garden of Life
products.