Oceans 3 - Beyond Omega 3 Cod Liver Oil - Garden of Life - The Only Omega-3 Liquid Supplement Available With Omegaxanthin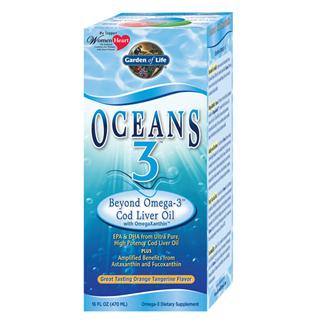 ---
Ingredients & Description
Oceans 3 Beyond Omega-3 Cod Liver Oil is the only Omega-3 liquid supplement available with OmegaXanthin, a synergistic complex of three health-promoting compounds from the ocean. OmegaXanthin provides all the benefits of a high potency Omega-3 supplement plus two ocean-based antioxidants for an amplified range of benefits unmatched by ordinary Omega-3 formulations.
What exactly is OmegaXanthin?
Here's the breakdown:
1. Omega-3 Fish Oils
Ultra pure, high potency cod liver oil rich in EPA and DHA, Omega-3 fish oils have become widely known and embraced by the medical and scientific community for the support of cardiovascular, brain and nervous system health.† Oceans 3 is formulated using cod liver oil carefully purified using multiple-stage molecular distillation process that both concentrates the EPA and DHA and removes environmental toxins. The Omega-3 fish oil contained in Oceans 3 Beyond Omega 3 is:
• An excellent source of Omega-3 fatty acids - 1,275mg per daily serving
• Super concentrated EPA – 675mg per day
• Super concentrated DHA – 450mg per day
2. Astaxanthin
An extremely powerful antioxidant carotenoid from sea algae, astaxanthin's antioxidant capacity has been shown to be 14 times stronger than vitamin E, 53 times stronger than beta-carotene, and 64 times stronger than vitamin C. As an antioxidant, astaxanthin benefits cardiovascular health, supports the body's natural response to inflammation, immune system health, eye health and even supports healthy skin, bones and joints.
3. Fucoxanthin
A dynamic, antioxidant carotenoid from brown seaweed, fucoxanthin is another ocean-based antioxidant. We know that antioxidants are noted for their ability to fight free radicals at the cellular level. Fucoxanthin has been shown to exert its protective effects directly in fat cells.
The unique trio of ingredients contained in OmegaXanthin have extraordinary health benefits when taken individually. By combining them in Oceans 3 Beyond Omega-3, these components work in harmony providing much more than they could on their own.
Supports cardiovascular health
Helps maintain already healthy triglyceride and cholesterol levels
Supports the body's natural anti-inflammatory response
Helps maintain already healthy c-reactive protein levels
Supports anti-aging through antioxidant cellular protection
Promotes stress management and emotional well-being
Helps maintain bone density and overall bone health† Supports joint health and flexibility
Helps maintain a healthy immune system
Maintains eye health and normal vision
Supports normal brain function and nervous system health
Helps protect and maintain healthy skin
Suggested Use: Adults and children 4 years of age and older, take 1 teaspoon daily, with food, or as otherwise directed by your healthcare provider. For optimal freshness, refrigerate after opening and use entire contents within 3 months. Not intended for children under 4 years of age.
Advanced Usage: Adults may gradually increase to 3 teaspoons a day.
Other Ingredients: Natural tangerine flavor, natural orange flavor.
Contains: Vitamin E derived from soy.
SKU: 101535
UPC: 658010113946
Distributed or manufactured from Garden of Life. See more
Garden of Life
products.