Nutritional Yeast Flakes Red Star Vegetarian - NOW Foods - Nutrition for Optimal Wellness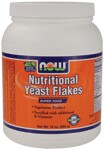 ---
Ingredients & Description
Nutritional Yeast Flakes Red Star Vegetarian - 10 oz NOW Foods
Pleasant tasting Nutritional Yeast Flakes are produced from a specially selected strain of Saccharomyces cerevisiae. This yeast is grown on enriched purified cane and beet molasses under carefully controlled conditions.This is a primary grown yeast and is therefore NOT a brewery by-product as is brewer's yeast. This ensures freedom from Candida albicans yeast.
Serving Size: 2 Heaping Tbsp. Other Ingredients: Dried Yeast, Niacin (B3), Pyridoxine Hydrochloride (B6), Thiamine Hydrochloride (B1), Riboflavin (B2), Vitamin (B12). Suggested Use: As a dietary supplement take 1-2 tablespoons daily mixed in milk, fruit juice, or vegetable juice or also use in vegetarian recipes.
Serving Size:2 Heaping Tablespoons (16 g)
Servings Per Container:17
DescriptionAmount Per Serving% Daily Value*
Percent Daily Values are based on 2,000 calorie diet.
Daily Value not established.
Calories 60
Calories from Fat 10
Total Fat 1 g 2%
Saturated Fat 0 g 0%
Trans Fat 0 g
Cholesterol 0 mg 0%
Sodium 5 mg 1%
Potassium 320 mg 9%
Total Carbohydrate 5 g 2%
Dietary Fiber 4 g 16%
Sugars 0 g
Protein 9 g
Vitamin A 0%
Vitamin C 0%
Calcium 0%
Iron 5%
Thiamine (B-1) 670%
Riboflavin (B-2) 590%
Niacin (B-3) 280%
Vitamin B-6 560%
Folate (Folic Acid) 180%
Vitamin B-12 400%
Pantothenic Acid 10%
Selenium 30%
Ingredients: Dried Yeast (Non-GMO), Niacin (B3), Pyridoxine Hydrochloride (B6), Riboflavin (B2), Thiamine Hydrochloride (B-1), Folic Acid and Vitamin B-12.
Contains no: salt, starch, wheat, gluten, corn, soy, milk, egg, shellfish or preservatives.
Vegetarian/Vegan Product.
SKU: 2455
UPC: 733739024558
Distributed or manufactured from NOW Foods. See more
NOW Foods
products.