NO-Xplode Fruit Punch (50 servings) - BSN - Extreme Pre-Training Igniter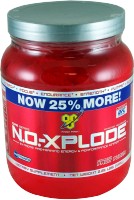 ---
Ingredients & Description
NO Meta-Fusion is the core of NO-Xplode. It is the catalyst that makes the entire formula and its amazing body altering and mind enhancing effects possible. NO Meta-Fusion opens the door to vaso-muscular enlargement by immediately ramping up and sustaining Nitric Oxide (NO) levels.
Suggested Use:
Recommended Use On Training Days:Once your tolerance has been established, mix 1-3 scoops with 5-18 oz of cold water and consume 30-45 minutes before training. Use approximately 5-6 oz of water per 1 scoop of powder. Again, vary the amount of water to achieve your desired flavor and sweetness level. Recommended Use On Non-Training Days: Mix 1 scoop with 5-6 oz cold water and consume on an empty stomach.
Supplement Facts
NO-Xplode
Serving Size:1 scoop
APS
%DV
Calories
30g
Total Fat
0g
0
Saturated Fat
0g
0
Total Carbohydrates
7g
3%
Sugars
0g
Protein
0g
0
Vitamin B6
25mg
1250%
Vitamin B9
400mcg
100%
Vitamin B12
120mcg
2000%
Calcium
75mg
8%
Phospohrous
500mg
50%
Magnesium
360mg
90%
Sodium
150mg
6%
Potassium
75mg
2%
N.O.-Xplode Proprietary Blend
20500mg
N.O. Meta-Fusion
L-Arginine AKG, L-Citrulline Malate, L-Citrulline AKG, L-Histindine AKG, RC-NOS, Gynostemma Pentaphyllum, NAD
Muscle Volumizing Creatine Matrix
CEM3, Di-Creatine Malate, Trimethylglycine, Glycocyamine, Guanidino Proionic Acid, Cinnulin PF, Ketoisocaproate Potassium
Ener-Tropic Xploson
L-Tyrosine, L-Tyrosine aKG, Taurine, Glucuronolactone, Methylxanthine, MCT, Vinpocetine 99%, Vincamine 99%, Vinburnine 99%
Phospho-Electrolyte Replacements
Di-Calcium Phosphate, Di-Potassium Phosphate, Di-Sodium Phosphate
Glycerol Hydrating Polymers
Potassium Glycerophosphate, Magnesium Glycerophosphate, Glycerol Stearate
Based on a 2,000 Calorie Diet
Other Ingredients:Maltodextrin, Natural And Artificial Flavors, Citric Acid, Sodium Bicarbonate, Sucralose(Splenda), Acesulfame-K, Potassium Citrate, FD&C Red #40, FD&C Blue #1, Calcium Silicate
Warnings:
Manufactured on equipment which processes products containing milk, egg, soybeans, shellfish, wheat, and tree nuts.
Warning: Before using product, seek advice from a health care practitioner if you are unaware of your current health condition or have any pre-existing medical condition including but not limited to: high or low blood pressure, cardiac arrhythmia, stroke, heart, liver or thyroid disease, anxiety, depression, seizure disorder, psychiatric disease, diabetes, pernicious anemia, difficulty urinating due to prostate enlargement or if you are taking an MAO inhibitor or any other medication. Do not use if you are pregnant, nursing, prone to dehydration or exposed to excessive heat. Reduce or discontinue use if sleeplessness, tremors, dizziness, nervousness, headaches, or heart palpitations occur. This product is only intended to be consumed by healthy adults 18-50 years of age.
SKU: BSNINOXP50SVPUNCPW
UPC: 834266009305
Distributed or manufactured from BSN. See more
BSN
products.