NO Synthesize Watermelon (1.31lb) - VPX Sports - Advance to the Next Level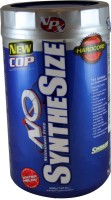 ---
Ingredients & Description
Synthesize was formulated as the ""post-workout"" synergist to NO-Shotgun V3. The most notable difference between (pre-workout) Shotgun V3 and Synthesize is, Synthesize does not contain ""REDLINE Energy Technology."" Because Synthesize contains zero energetic compounds (ie, REDLINE Technology) it can be taken any time of day, even before bed. However, to obtain the greatest possible anabolic gains, VPX highly recommends stacking pre-workout Shotgun V3 with post-workout Synthesize.
Suggested Use:
Directions: Mix on scoop of N.O. SyntheSize with 8 to 10 ounces of water or your favorite beverage. N.O. SyntheSize can be used as a stand alone product or stacked together along with N.O. Shotgun prior to any type of athletic event or resistance training. Consume N.O. SyntheSize during and after training.
Supplement Facts:
Serving Size 21g Servings Per Container 28 Calories 82 Total Fat 0 0% Carbohydrates 0g 0% Sodium 65mgs 3% Protein 20g 40% Protein Hydrolysate Matrix Yielding 22% Glutamine Peptide, 21% BCAA Peptide, & 41% EAA's 9712mg ** Casein Protein Hydrolysate Whey Protein Hydrolysate Whey Protein Isolate Branched Chain Ethyl Ester Amino Acid Matrix (Naturally Occuring And Added) 12,350mg L-Leucine L-Valine L-Isoleucine L-2-Aminopentanoic Acid (L-Nor-Valine) L-Leucine Ethyl Ester L-Valine Ethyl Ester L-Lysine L-Phenylalanine L-Threonine L-Histidine L-Isoleucine Ethyl Ester L-Methionine Proprietary Muscle Volumizing, NO2, Insulinotrophic 9.352mg ** Creatine Taurinate Creatine Gluconate CEX (Creatine Ethyl Ester HCL) Beta-Alanine Di-L-Arginine Malate COP (Creatinol-O-Phosphate) Creatine Magnesium Chelate Creatine Monohydrate Citrulline Malate Gamma-Butyrobetaine Ethyl Ester MTB Pump (Magnesium Tashinoate B) Beta Alanine Ethyl Ester Di-Na Creatine Phosphate Tetrahydrate Folate (As Folic Acid) ~ 100% Gamma-Butyrobetaine * Percent Daily Values are based on a 2,000 calorie diet ** Daily Value not established
Other Ingredients:
Natural And Artificial Flavors, Malic Acid, Monosodium Phosphate Anhydrous, Trisodium Phosphate Dodecahydrate, Sucralean Brand Sucralose (A Non-Nutratice Sweetner), And Citric Acid Anhydrous.
You have reached NO Synthesize Watermelon on Seacoast.com from the manufacturer VPX Sports. We're proud to have served 1263 customers since 02/15/2010 who were also interested in purchasing NO Synthesize Watermelon. It currently ranks as our 3 most popular natural health product.
Technical NO Synthesize Watermelon Details: Locate this product using sku number or ISBN . For shipping, the weight is equal to 1.31 pounds and is currently out of stock. Typical inquiries include VPX Sports, and natural health. Seacoast Vitamins offers this product at a $12.45 discount off of the suggested retail price $69.9500. Our price is $57.5.
SKU: VPXSPSYN1.31WATEPW
UPC: 610764840165
Distributed or manufactured from VPX Sports. See more
VPX Sports
products.