NO Shotgun Black Cherry (672g) - VPX Sports - Advance to the Next Level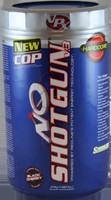 ---
Ingredients & Description
NO-SHOTGUN fuels episodes of physical intensity to induce insane muscle pumps that can lead to muscle growth. The biochemical and physiological response to NO-SHOTGUN when combined with intense resistance training causes extra trauma to occur to trained muscle. Greater resistance to muscle results in significantly increased internal pressure (the pump) And as you know, the better the pump the greater the trauma caused to muscle-tissue. The end result: increased ability to build larger muscle! NO-SHOTGUN is the first product of its kind to use a superior synergistic blend of effective compounds combined with a cutting-edge pharmaceutical delivery system that yields mind blowing, skin bursting effects, while additionally enhancing recovery and protein synthesis. Compounds such as Creatine, Arginine, Glutamine, Beta-Alanine and Branch Chain Amino Acids (BCAA) that are each combined with Ethyl Ester technology to insure maximum absorption and uptake! The Ethyl Ester Compounds used in NO-SHOTGUN help these potent muscle building ingredients enter the bloodstream nearly 100% intact, as opposed to the same ingredients without technology that might only be absorbed at 15% to 40%. This highly advanced technology shuttles these NO-NO-SHOTGUN compounds across the muscle cell membrane where they can cause explosive muscle growth!
Suggested Use:
Mix one scoop of NO-SHOTGUN with 10 ounces of water or your favorite beverage. Do not consume more than 1.5 scoops in one serving. NO-SHOTGUN can be used as a stand alone product or together along with ZERO IMPACT PROTEIN prior to any type of athletic event or resistance training. This NO-SHOTGUN supplement strategy should always be utilized 20 minutes prior to resistance training. Always consume an additional 12 ounces of water with each serving of NO-SHOTGUN
Supplement Facts:
Serving Size 1 scoop Servings Per Container 28 Total Fat 0 0% Carbohydrates 0g 0% Sodium 65mgs 3% Protein 20g 40% Protein Hydrolysate Matrix Yielding 22% Glutamine Peptide, 21% BCAA Peptide, & 41% EAA's 9712mg ** Casein Protein Hydrolysate Whey Protein Hydrolysate Whey Protein Isolate Branched Chain Ethyl Ester Amino Acid Matrix (Naturally Occuring And Added) 12350mg ** L-Leucine L-Valine L-Isoleucine L-2-Aminopentanoic Acid (L-Nor-Valine) L-Leucine Ethyl Ester L-Valine Ethyl Ester L-Lysine L-Phenylalanine L-Threonine L-Histidine L-Isoleucine Ethyl Ester L-Methionine Proprietary Muscle Volumizing, NO2, Insulinotrophic 9352mg ** Creatine Taurinate Creatine Gluconate CEX (Creatine Ethyl Ester HCL) Beta-Alanine Di-L-Arginine Malate COP (Creatinol-O-Phosphate) Creatine Magnesium Chelate Creatine Monohydrate Citrulline Malate Gamma-Butyrobetaine Ethyl Ester MTB Pump (Magnesium Tashinoate B) Bis Picolinato Oxo Vanadium (BPOV) Beta Alanine Ethyl Ester Di-Na Creatine Phosphate Tetrahydrate Phosphates Folate (As Folic Acid) ~ 100% Gamma-Butyrobetaine **Percent Daily Values are based on a 2,000 calorie diet.
Other Ingredients:
Maltodextrin, monosodium phosphate anhydrous, trisodium phosphate dodecahydrate, natural & artificial flavors and sucralose.
You have reached NO Shotgun Black Cherry on Seacoast.com from the manufacturer VPX Sports. We're proud to have served 1275 customers since 02/15/2010 who were also interested in purchasing NO Shotgun Black Cherry. It currently ranks as our 2 most popular natural health product.
Technical NO Shotgun Black Cherry Details: Locate this product using sku number or ISBN . For shipping, the weight is equal to 1.31 pounds and is currently out of stock. Typical inquiries include VPX Sports, and natural health. Seacoast Vitamins offers this product at a $10 discount off of the suggested retail price $69.9500. Our price is $59.95.
SKU: VPXSNOSH1.31CHRYPW
UPC: 610764840264
Distributed or manufactured from VPX Sports. See more
VPX Sports
products.