Nitro-Tech pro Chocolate (4lb) - MuscleTech - Scientifically Advanced Whey Protein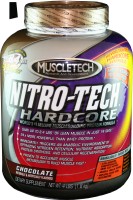 ---
Ingredients & Description
Nitro-Tech Hardcore is scientifically engineered protein designed with a state of the art Nitrogen Delivery System. It accelerates amino acid transport through the blood and across cell membranes into muscles. Nitro-Tech Hardcore and it's scientifically engineered, patent-pending formulation is designed with a state-of-the-art Nitrogen Delivery System that accelerates amino acid transport through the blood and across the cell membrane into the muscle. It is powered by Nanomolecular Hyperdispersion Technology, Nitro-Tech Hardcore rapid diffusing ingredients saturate the muscles with it's potent, perfected amino acid formula for dramatic muscle and strength-building results fast.
Suggested Use:
Add 1 to 2 servings of Nitro-Tech pro to 4 to 8 oz. of cold water or skim milk and mix. For maximum results, consume 2 servings of Nitro-Tech Hardcore 3 times daily for a minimum of 6 weeks
Supplement Facts:
Serving Size 1 Scoop Calories 110 Calories from Fat 15 Total Fat 1.5g 2% Saturated Fat 1g 5% Cholesterol 50mg 17% Total Carbohydrate 3g 1% Dietary Fiber 1g 2% Sugars 2g Protein 20g 40% Vitamin A 25IU 1% Vitamin E 30IU 100% Vitamin B6 10mg 500% Folic Acid 400mcg 100% Calcium 130mg 13% Iron 0.2mg 1% Phosphorus 90mg 9% Magnesium 45mg 11% Sodium 50mg 2% Potassium 160mg 5% SynthePro 2020mg Creatine monohydrate Calcium alpha-ketoglutarate L-methionine Phenylalanine methyl ester HCI Glutamine alpha-ketoglutarate Glutamine ethyl ester HCI Glutamine methyl ester L-histidine L-threonine L-valine Valine ethyl ester L-lysine monohydrochloride L-leucine alpha-ketoglutarate L-leucine pyroglutamate Isoleucine ethyl ester HCI L-isoleucine Lactoferrin Insulogen 921mg Cyamopsis tetragonoloba D-myo-inositol Taurine Glucomannan Alpha lipoic acid D-pinitol L-leucine Leucine ethyl ester HCI Leucine methyl ester HCI C12 Peption Taurine ketoisocaproic acid Taurine alpha-ketoglutarate Nitroxen 712mg Glutamine peptides L-glutamine American ginseng extract N-acetyl cysteine L-citrulline N-acetyl tyrosine Percent Daily Values are based on a 2000 calorie diet
Other Ingredients:
Protein blend (featuring nano-diffuse whey protein concentrate [providing di-, tri-, oligo-, and polypeptides and nanodiffused protein], hyper-pure whey protein isolate [ion-exchanged 97% purity], partially hydrolyzed whey), maltodextrin, natural and arti
SKU: MSCTHCNT04LBCHOCPW
UPC: 631656701722
Distributed or manufactured from MuscleTech. See more
MuscleTech
products.