Neurozyme (60 soft gels) - New Chapter - Supercritical Mental Clarity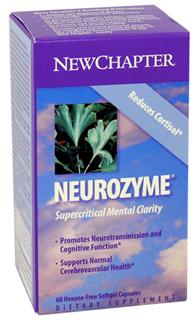 ---
Ingredients & Description
Science has identified specific herbs and the fatty acid DHA as ideal supports for the clear and proper functioning of these neuronal pathways. New Chapter's Supercritical Neurozyme brings together a multifaceted and patent-pending formulation of these scientifically and traditionally confirmed herbal supports, which provides a safe and easy method to promote the long-term clarity of our mental functioning.
GINKGO Used by millions and confirmed in scientific research to promote neurotransmissions and enhance cognitive function.
CAT'S CLAW Recent research at the Federation of Societies for Experimental Biology showed a modulating effect on beta amyloid oxidation and a significant synergy with ginkgo
GOTU KOLA Traditionally revered in India for memory enhancement and shown in scientific research to counter beta amyloid oxidation.
ASHWAGANDA Traditionally regarded in India to support mental clarity, shown in recent research to increase stress tolerance and counter acetylcholinesterase.
CLUB MOSS Traditionally used to promote a healthy inflammation response, it is shown in modern research to counter acetylcholinesterase.
BACOPA (Brahmi) Traditionally regarded for anti-anxiety and anti-fatigue effects, recent research shows "bacosides" support mental clarity and learning.
DHA Supports brain health and neuronal membrane integrity.
CLOVE According to USDA, nature's richest known source of the phytonutrient called eugenol which accentuates DHA Omega 3 and is shown to inactivate free radicals like superoxide and promote nerve cell health.
ROSEMARY The traditionally revered "memory herb" which USDA database confirms contains at least 8 phytonutrients to inhibit the neurotransmission "challenger" acetylcholinesterase
CHAMOMILE AND HOLY BASIL Dual extracts offer stress cortisol reduction and phytonutrients apigenin and ursolic acid to reduce COX-2 initiated inflammation.
RED WINE A rich source of phytonutrients including specific flavonoids that are shown in epidemiological research to be associated with mental clarity and healthy mental functioning
MELISSA Reported historically to "renew youth" and "strengthen the brain," recent research shows it contains multiple phytonutrients that concentrate in the hippocampus "learning center."
GINGER Promotes a healthy inflammation response and offers many anti-aging constituents that inactivate disruptive free radicals.
SAGE Recognized in Traditional Chinese and Indian Ayurvedic traditions to promote calmness and mental clarity.
TURMERIC Delivers curcumin and other essential anti-aging phytonutrients that inactivate free radicals and reduce inflammation.
PEONY Revered in Traditional Chinese Medicine as a systemic tonic, contains phytonutrients that support healthy neurotransmission.*
Suggested use:One softgel, two times daily. Take in the middle of a larger meal with an 8 oz. glass of water
Supplement Facts
NeuroZyme
Serving Size:2 softgels
APS
%DV
Supercritical Extracts
Omeg-3 fatty acids (from 100 mg fish oil supercritical extract) (min 50% DHA, Docosahexaenoic acid - 50 mg, min 25% other omega-3 fatty acids-25 mg, including EPA and DPA)
75 mg
ÃÂ
Rosemary (leaf), supercritical extract (23% total phenolic antioxidants-7 mg)
30 mg
ÃÂ
Ginger (rhizome)16.2 mg supercritical extract (30% pungent compounds-4.8 mg, 8% zingiberene-1.3 mg) and 13.8 mg ethanolic extract (3% pungent compounds-0.4 mg)
30 mg
ÃÂ
Chamomile (flower) 15 mg supercritical extract (2% alpha-bisabolol -0.3 mg) and 15 mg extract 5:1
30 mg
ÃÂ
Turmeric (rhizome) 5 mg supercritical extract (45% turmerones - 2.25 mg) and 15 mg ethanolic extract (7% curcuminoids - 1.05 mg)
20 mg
ÃÂ
Sage (leaf), supercritical extract (33- 37% total phenolic antioxidants 5 mg)
15 mg
ÃÂ
Clove (bud) supercritical extract (65% eugenol-6.5 mg)
10 mg
ÃÂ
Potency Assured Extracts
Ginkgo (leaf) (12% flavone glycosides-14 mg)
120 mg
ÃÂ
Gotu Kola (leaf) (10% asiaticoside-12 mg, 10% triterpenes-12 mg)
120 mg
ÃÂ
Ashwagandha (root) extract 4:1
60 mg
ÃÂ
Cat's Claw (root) extract 4:1 (3% alkaloids-1.5 mg)
50 mg
ÃÂ
Lemon Balm (Melissa officinalis) (leaf) (5% rosemarinic acid-1.5 mg)
30 mg
ÃÂ
Bacopin (Bacopa monniera) (Brahmi) (leaf) extract (Bacosides A and B = 20%-6 mg) (0.6% alkaloids-0.2 mg)
30 mg
ÃÂ
Peony European extract 5:1
20 mg
ÃÂ
Holy Basil (Ocimum sanctum) (leaf) (2% ursolic acid-0.4 mg)
20 mg
ÃÂ
Red Wine extract (30% total polyphenols-6 mg)
20 mg
ÃÂ
Club Moss (Huperzia serrata) extract (0.8%-1% huperzine alkaloids)
4 mg
ÃÂ
** Percent Daily Values are based on a 2,000 calorie diet
*Daily Value not established
Other ingredients:Olive oil-extra virgin, maltodextrin, silica, yellow beeswax, alpha tocopherol, and palm kernel oil.
Capsule: Gelatin, vegetable glycerine, water, and carob. Naturally gluten free. Our premium softgel capsules are prepared without any chemical solvents and are prion free.
SKU: 4059
UPC: 7 27783 04059 6
Distributed or manufactured from New Chapter Nutrition. See more
New Chapter Nutrition
products.