Neck and Shoulders Support -Planetary Formulas- Botanical Support for Upper Back and Neck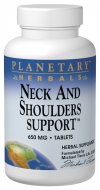 ---
Ingredients & Description
Planetary Formulas Lower Back Support TM is based on one of the most highly regarded tonifiers of China, known as Rehmannia Six (Liu Wei Di Huang Wan). It was originally created by herbalists to tonify and strengthen the kidneys. Lower Back Support further utilizes achyranthes as its primary herb. Though almost unknown in the West, it has been in wide use in Chinese herbal formulas since 206 B.C. Achyranthes has been blended with another common, though again little known herb, eucommia. Together, these two uniquely beneficial tonifiers are combined with rehmannia, dioscorea, poria cocos, alisma and moutan peony, the primary herbs of the famous original Chinese tonifier, Rehmannia Six. Neck And Shoulders Support The primary herb in Planetary Formulas Neck And Shoulders Support TM is kudzu, Pueraria lobata, also first written about in 206 B.C. This unique botanical has recently been popularized by todays macrobiotics proponents, and continues to be included in Chinas official pharmacopoeia. Neck And Shoulders Support combines kudzu with specific botanicals from traditional Chinese herbalism used to release neck and shoulder tension, including ligusticum, notopterygium, turmeric extract, dong quai extract, peony alba, clematis, astragalus, cinnamon and millettiae.
Lower Back Support & Neck and Shoulders Support Herbal Back Support FormulasThe search for healthy back support is one of the more common quests as we enter the 21st century. Drastic changes in our processed foods diet, an increasingly toxic environment and unhealthy work regimens are probably at the core. If one is at all active, the need for optimum back support becomes an important issue in everyday life - especially as we age, and spend increasing time at computer terminals with lack of exercise. Now ancient Chinese wisdom may help offset the ravages of physical and environmental stress on our backs.
Combining modern convenience with herbal tradition, Planetary Formulas has made two classic back support formulas: Lower Back Support and Neck And Shoulders Support .Centuries of Use In Chinese herbalism, herbs are used to support general back health. Ancient formulas have long supported specific back areas by focusing on the liver, kidneys and specific muscles. According to traditional Chinese texts, the kidneys are stated to "rule the bones," while the liver is said to "govern the tendons." The botanicals used in the lower back formula are traditionally used to support the kidneys and liver, and are said to "strengthen the sinews and bones...and benefit the joints," while herbs for the neck and shoulders are also said to support muscle relaxation. A clinician since 1972, MichaelTierra is an internationally recognized authority on herbs and best-selling author of herbal books, including The Way of Herbs and Planetary Herbology.Ancient Herbal WisdomThe scholarly blending of classical herbalism with modern pharmacology is a hallmark of Planetary Formulas. Lower Back Support TM and Neck And Shoulders Support TM formulas further extend its line of botanical products to bring you modern herbal wisdom based on clinical experience.
Suggested use: 3 tablets daily between meals.
Supplement Facts for 650 mg Tablet Serving Size: 1 tablets Amount %DV Calcium 78 mg 8% - Proprietary Blend: Kudzu Root, Cassia Twigs, Notopterygium Root, Ligusticum wallichii Rhizome, Turmeric Rhizone Extract (standardized to 95% curcumin), Dong Quai Root Extract (4:1), Tree Peony Root Bark, Astragalus Root, Millettia reticulata Stems, and Chinese Clematis Root Extract (5:1).650 mg
Other Ingredients: dibasic calcium phosphate, stearic acid, colloidal silicon dioxide, modified celllose gum, magnesium stearate.Warning: If you are pregnant, may become pregnant, or breastfeeding, consult your health care professional before using this product. Do not use if either tamper-evident seal is broken or missing. Keep out of the reach of children.
Planetary Herbals offers the best of classic herbal traditions, from Ayurvedic and traditional Chinese herbalism to the experience of Western herbal practitioners. Utilizing the knowledge of more than 30 years clinical experience, professional herbalists such as Michael Tierra, Lesley Tierra, Jill Stansbury, and Alan Tillotson, Planetary Herbals is committed to ensuring that our time-tested herbal traditions continue to evolve, grow, and flourish.
SKU: PF0416
UPC: 021078104162
Distributed or manufactured from Planetary Herbals. See more
Planetary Herbals
products.